Islamabad: Nobel Peace Prize winner Malala Yousafzai says she has pined for her home in Pakistan's picturesque Swat Valley, even as she recalled two years living in fear under Taliban.
Visiting her homeland for the first time since a Taliban gunman shot her in the head over her blog advocating girls' education, 20-year-old Malala also contradicted Pakistani critics who accuse her of promoting an ideology at odds with the country's Islamic values.
"I am proud of my religion, and I am proud of my country," she told Reuters in an interview at her hotel on Friday.
Wearing a rose-printed head scarf and flowing tunic and trousers - one of many outfits family and friends brought her from Pakistan to Britain, where she is studying at Oxford University - Malala said she was elated at being home.
"I had never been so excited for anything. I've never been so happy before," she said, though she would not discuss whether she had received security clearance to visit Swat.
"I miss everything about Pakistan ... right from the rivers, the mountains, to even the dirty streets and the garbage around our house, and my friends and how we used to have gossip and talk about our school life, to how we used to fight with our neighbours."
She said she has wanted to return before but, aside from security concerns, there was the hectic pace of school and her entry exams to Oxford, where she began studying last year for a degree in politics, philosophy and economics.
Nobel Prize
Malala's journey to becoming the youngest ever Nobel winner began with the local branch of the hardline Taliban movement taking over her hometown in Swat, about 250 km from the capital, Islamabad, in 2007, when she was 9 years old.
The Tehreek e Taliban Pakistan (TTP) banned television, music and girls' education, and burned about 200 schools, following the example of the 1990s Taliban government in neighbouring Afghanistan, which forcibly excluded women from nearly every aspect of public life.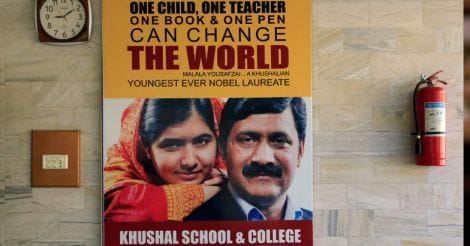 A poster with the pictures of Malala Yousafzai and her father Ziauddin Yousufzai hangs at the wall of Khushal School, in her home district in Swat Valley, Pakistan. Photo: Reuters
"I still remember each and every moment, right from the fear while sleeping at night that you might not be alive the next day," Yousafzai said. "The fear that if you are going to school, someone might stop you and throw acid in your face."
Her father was a teacher in a school that educated girls and managed to stay open until early 2009.
After the Pakistani army drove out the Taliban in mid-2009 she became a symbol for girls' education through a blog she wrote for the BBC's Urdu service, which started while the Taliban were still in power, and a documentary "Class Dismissed", that profiled her.
It made her a target. In 2012, a masked gunman boarded her school bus, singled her out and shot her. The Taliban later said it had carried out the attack for her promotion of liberalism.
She was flown to Britain for surgery and has remained abroad since, co-writing a best-selling book "I Am Malala" and starting a foundation advocating girls' education worldwide.
In 2014, she was awarded the Nobel Peace Prize, along with Indian activist Kailash Satyarthi.
Polarizing figure?
Though she is perhaps the world's best-known Pakistani, Malala - is a polarizing figure at home, beloved by many but reviled by others.
A group of private schools in Pakistan declared Friday to be "I Am Not Malala Day", for what its spokesman described as her "anti-Islam and anti-Pakistan ideology".
That description puzzles Malala.
"I just don't know anything I've said that makes me anti-Pakistan or anti-Islam," she said. "Islam has taught me the importance of peace. Islam has taught me the importance of education. The first word of Islam, or the first word of the Quran, is 'Iqra' which means 'read'."
Government commitment to education was one of the subjects of her meeting on Thursday with prime minister Shahid Khaqan Abbasi, whose government, along with the army, helped arrange her trip, including providing security.
"We did talk about education and I appreciated what he has done, but I think there is a lot more that needs to be done. The government promised 4 per cent of GDP for education but only so far has increased it to 2.7," she said.
Meetings with the prime minister - as well as other world leaders - might seem a far cry from a schoolgirl's life in the Swat Valley, but Malala said some aspects of her life, like attending Oxford, were longtime dreams.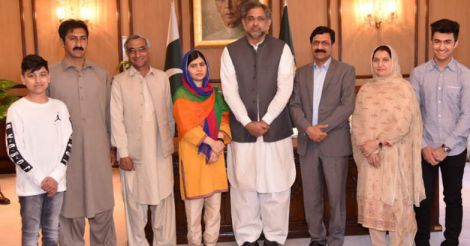 Nobel Peace Prize laureate Malala Yousafzai and her family members with Pakistan's Prime Minister Shahid Khaqan Abbasi, in Islamabad. Photo: Reuters
"My initial plan was that I would continue my education, I would continue speaking out for the girls who cannot go to school ... and one day once I finish my secondary education, I will apply to Oxford," she said.
"So it was in my plan ... I did not know that this attack would happen and I would move to the UK, but I wanted to focus on Pakistan and continue to do as much as I could for girls' education."
Read more: Latest world news