Flamboyant West Indian cricketer Chris Gayle, who took a brief vacation in Kerala while in the country for IPL duties for Kings XI Punjab, has been literally bowled over by the typical Kerala delicacies and the scenic beauty of the tropical land that resembles his country, Jamaica.
Unending curiosity about Kerala was what brought the "destructive batsman" to its shores, Kollam, to be precise, on an unofficial tour. A short break was what the cricketer needed to relax and spend some quality time with his family. While scanning sites where he could chill out, up popped the green expanse of Kerala, though he had planned a trip here right from the time Sachin Baby, his IPL buddy and former teammate at Royal Challengers Bangalore, had mentioned about his home state to the star.

Gayle had just one demand to his hosts that he be served the traditional fare of Kerala, said Suresh Pillai, the corporate chef of the Raviz Group of Hotels. Accordingly, he was treated to karimeen (pearl spot), kanambu (mullet) and chempalli (red snapper) - the popular fishes of the region. Though the family found the dishes a tad too spicy, they nonetheless dined with relish, said Pillai. And that included his two-year-old daughter Crisalina.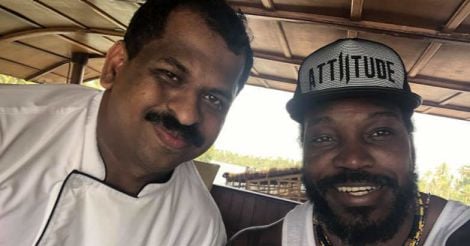 Chris Gayle with chef Suresh Pillai.
The houseboat carrying Gayle and family set off from the Raviz jetty to the scenic Mundrothuruthu (Munroe Island) via Kureepuzha. Gayle's partner Natasha Berridge was in raptures over the expanse of the Ashtamudi Lake. The minute he checked into Raviz, he enquired about the boat ride. Since it was already nightfall by the time, the family could make it only the next day.

As the boat glided down, they spotted local fishermen casting their nets and hauling up their catch, a sight which sent Gayle longing for a fresh catch. He got his wish granted. But when the boatman realised he had sold his catch to the illustrious cricketer, he wanted a selfie clicked with the celebrity. And Gayle happily posed for one. Mondrothuruthu was an eye candy for the cricketer who went about clicking pictures on his smartphone.

Chris Gayle poses for a selfie with a boatman.
While on the boat, Gayle was presented a huge jackfruit which caught his fancy. He was no end amused by its size and shape. Natasha and Aleena were also fascinated by the jumbo-sized fruit. Then came ripe mangoes and tender coconut drink.
And he certainly did have a whale of a time playing off-field games with Crisalina. He was the perfect daddy.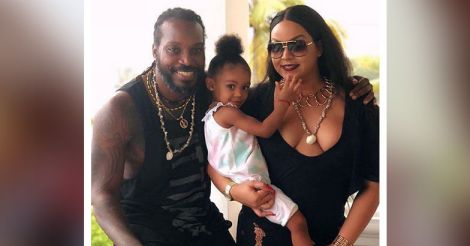 Chris Gayle with his wife and little daughter.
The Kerala coast and its food were surely no less exciting than the Caribbean beaches and fare for Christopher Henry Gayle. Stumped! That's what he would have felt. Gayle, who dubs himself as the "Universe Boss", has only warm words for the land which far exceeded his inner visions of a place that Sachin Baby had painted for him.