Life has come a full circle and the bicycle is slowly but surely making its way back into our collective life. This time, however, it's not humble, on the contrary it's chic. This is happening for the first time in decades, that is bicycles hitting the Indian roads the way they should be. Arguably for the first time, Indians are riding well-designed horses for courses.
How to decide frame size of bicycle?

Sizing goes beyond the general chart available on the Internet (image 1). Even for basic sizing, what matters most is the in-seam length, the stand-over height. Reason being, the proportion of torso and legs is different for each person.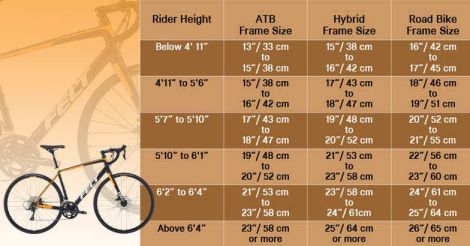 Image 1
Stand over a bicycle with your legs on either side of the top tube and your hips touching the saddle/seat (as shown in image 2). In this position, the space between your scrotum and the top tube should be a minimum one inch. Less than an inch, the bike is big for you and more than three inches, it's small for you.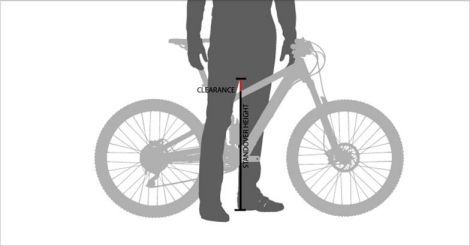 Image 2
This is the international standard and nothing goes beyond this.
If you are not near a bicycle and still want to know what size fits you, measure in-seam as shown in image 3. The website of every good bicycle brand will have stand-over height mentioned. In-seam should be an inch more than the stand-over.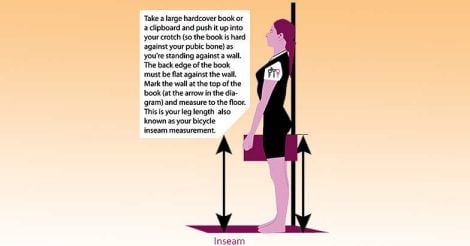 Image 3
Sizing is important as without correct size, your posture on a bicycle can never be correct. Get the size correct and say goodbye to half your worries.
Review: Felt VR50 2017

The latest international brand to enter the country is the American Felt. Imported by Pune-based Ozone Ventures, Felt has come to India with the QX series hybrid bikes and VR (endurance) and FR (race) series road bikes.

We rode the VR50 endurance roadie and found it extremely stable and comfortable. It's a perfect bike for long-distance riding such as randonneuring.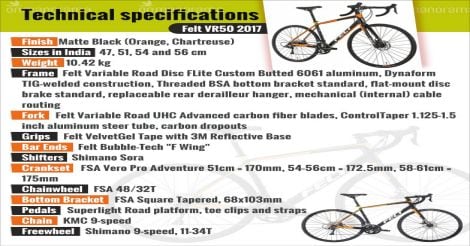 With an aluminum frame and carbon fork featuring the same comfort-oriented tube shape designs developed for every model in the VR line, Felt claims, the VR50 is ready for any adventure.
At 85K, the price is comparatively higher than bikes belonging to other brands with similar specifications, but the ride quality is superb. It's a bike for the distance, as an endurance bike should be.
This does not mean that it compromises on speed. We tested the bike for speed over a relatively short distance of 20 km at high traffic hour and came up with 32kmph. The ride also revealed another aspect of the VR50. It gives the rider confidence even in the thick of traffic and does not shake when big vehicles zoom past unlike most other endurance road bikes.
Randonneurs riding distances such as 200, 300, 400 and 600 km have vouched for the VR50's comfort.
With its 48-32T FSA chainwheel and Shimano 9-speed 11-34 freewheel, climbing becomes really easy.
The bike comes with a gel saddle and a flayed handle bar for extra comfort. It has provision to mount four bottle cages. This ensures better hydration on long rides.
Mechanical disc brakes make it an all-terrain bike. These give a rider the confidence to roll out even in torrential rain when V brakes become ineffective.
The VR50 is a great endurance bike.
The flip side is the high price.
(The author is a bicyclist by choice who uses the bicycle for everyday commute, distance riding and conducts professional workshops on bicycling and bicycles)
Read also: More Autos stories | Hamilton wins US GP but made to wait for title