Greater Noida: American bike maker Cleveland CycleWerks(CWC) on Thursday announced the launch of two models - Ace and Misfit - at Auto Expo here, marking its foray into the Indian market with a target to sell about 5,000 units by 2019.
The company, which has distribution in 23 countries, has joined hands with Laish Madison Motor Werks (LMMW) to bring its retro style motorcycles in the country and has a fully integrated assembly facility in Pune.
"We are looking to sell at least 5,000 units by 2019 and we have an installed capacity of approximately 35,000 units in Pune," LMMW CEO Pranav T Desai told PTI on the sidelines of the launch here.
When asked about the market share target, he said it is difficult to project a market share at this point as the motorcycle segment is growing rapidly and it is projected to touch 35 million by 2026.
"We would focus on increasing our percentage of sales and that would automatically help us have a share in few years," Desai said.
Powered by a 229cc four-stroke engine, there are three sub-models under ACE category -- Ace Deluxe, Ace Scrambler, and Ace Cafe.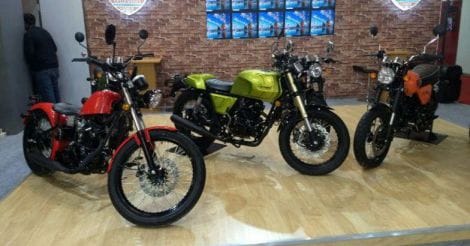 In the Misfit model, the bike Gen II Misfit also comes with a 229cc air-cooled engine with single motor giving a peak power of 15.4 HP and 16 NM torque.
A number of motorcycle manufacturers including BMW, Ducati, Harley Davidson and Triumph have entered into the Indian market to grab a share of about 20 million motorcycles sales per year.
Cleveland CycleWerks founder Scott Colosimo said: "The bikes are launched keeping in mind the Indian rider, traffic and road conditions."