Kolkata: Swedish luxury automobiles major Volvo Car India, which is betting big on electrified vehicles, is looking at over 28 per cent sales growth in the current year, an official said here on Friday.
"During 2017, we sold 2,029 vehicles in India achieving a 28 per cent growth. This year, we will grow at that pace or faster. We had sold 1,586 units in the previous year (2016)," company's managing director Charles Frump told reporters here.
He said the car maker was aiming at a 10 per cent share in luxury car market in India by 2020.
"From 2019 going forward, all new cars we introduce will be electrified somehow. It could be hybrid, plug-in hybrid or pure electric," he said.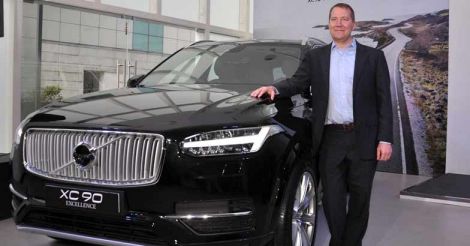 Volvo Car India MD Charles Frump. Photo:IANS
Asked about the absence of proper infrastructure required for electric vehicles in India, Frump said: "What I am hearing is that for pure electric vehicles, the infrastructure is difficult but for plug-in hybrid, it is quite simple."
"If the government is looking for full electric vehicles, we think they should lay out some kind of road map to get there and support plug-in hybrid."
After opening a showroom at Rajarhat in the city, he said the Swedish car maker is expanding its dealership network across cities in India by adding six more dealers by the end of the current year to take it to 28 across the country.
Globally, the car maker sold over 5.71 lakh vehicles in 2017 and achieved 14 per cent growth in the first quarter of 2018, he added.
Read more from Fast Track