Kannur: A firm raking in an annual income of Rs 2 crore, a house and a BMW car – T N M Jawad has achieved all this by age 21 on his own. This enterprising youngster never utilized his family's money but searched Google to create this amazing success story.
Google as Guru
T N A Khader gave his son, T N Muhammed Jawad, a computer with Internet connection while he was in fifth standard. As soon as Jawad secured the ID tnmjawad96@gmail.com, his early lessons in entrepreneurship began. He also adopted the email address as his official name after dropping '96'. Initially, with the help of free apps, Jawad took classes in blog and web designing. Soon, while in tenth standard, he launched a site, jasri.tk, in partnership with Srirag, a classmate.
Steadily pursuing his dreams, Jawad started his own firm, T N M Online Solutions, while doing the first year of his higher secondary course. During this time, he also opened an office and appointed a staff of two to carry out designing and development works.
Even while attending school, Jawad was actively involved in the work related to his venture. He made an announcement through Facebook regarding designing a website at just Rs 2,500. However, expenses began to mount. Salaries for staff, office rent… Then, there was no money for advertising. It came to such a pass that payment of salaries would be delayed. Jawad's mother Farida was firm that the staff should get their pay on time and offered her own jewelry for the purpose.
Persistence Pays
Jawad vividly recalls those days: "I used to rush from school to office and stay there till 9 pm. Then, from home, I discussed business with clients up to 2 am. My Umma used to give me company till I slept."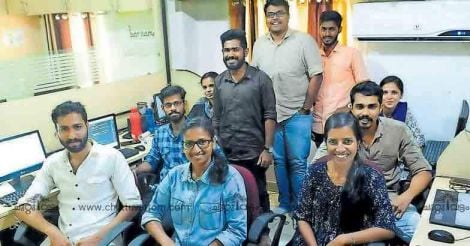 Such persistence began to pay off. "During the first year, I received around 100 orders, including from abroad," says Jawad.
Though there was a fall in attendance at school, Jawad passed the higher secondary exam with 85 per cent marks.
He then sought a management seat for the BBA course. However, the fees sought by the college authorities were too steep and the young entrepreneur had to abandon his plan to pursue a regular course. Jawad joined a distance education BBA programme, which he still continues.
Meanwhile, Jawad's company started to make a real impact in cyberspace as well as to earn profits after he launched a Google SEO, which optimizes a website to make it easy to find during a search.
"A team which works round-the-clock is my strength and Google is my mentor," says Jawad on his amazing track record.
T N M Online Solutions, with Jawad as the managing director, has offices at his native place Kannur as well as Dubai. His real estate venture in Bengaluru employs around 100 persons. Jawad built his own house at Varam, near Kannur City, when he was just 19. Apart from his parents, who always encouraged him to chase his dreams, Jawad is also proud of his sister Fathima Fida, who was the winner of a Mappila song reality show.
Still More Dreams
Now, the youngster has set a new target – starting an academy offering professional training in web designing, digital marketing etc. The academy, to start functioning near Kannur City soon, would be open for candidates of all ages, says the young millionaire.