Ramante Edanthottam fame Anu Sithara has become queen of million Malayali hearts within a short span of time.  With wide enchanting eyes, chiseled nose and an exceptional rustic charm, Anu is one actress Malayalam directors bet on. 
With less than twenty movies to her credit (as lead actress in less than nine of them) Anu's desi-girl appearance yielded her a special place in Malayalam cinema. 
Yet, lesser known is the fact that this young actress is the heroine of a real life romantic and heartwarming real-life love story. This Valentines' day, Anu opens up to Onmanorama, on how she met and fell for Vishnu, her love of life.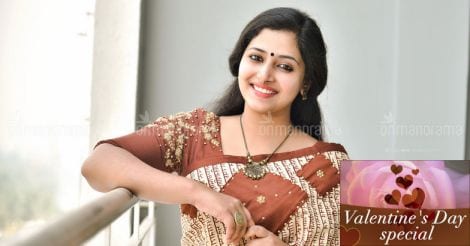 Photo: Manu Mulanthuruthi
"I was in +2 when I noticed him first. He used to wait in a local tea-shop to get my sight when I walked back home from school. Most people in our locality knew my family, especially my father. Vishnu never came near me, nor tried to disturb me with unwanted conversations. Yet, I realized that people noticed this young man who came to see me everyday. Wary of the consequences, I stole my mother's cell-phone and called him to convey my disinterest," Anu says. 
Anu Sithara asked Vishnu not to wait for her as it would attract public attention and would lead to more trouble at home. Though young Anu thought her effort would be fruitless, the result was unexpected and there started her dilemma. "I thought he would neglect my request and appear in the tea-shop again but he disheartened me. For more than a week from the very next day, I didn't see him anywhere around! Now this made me anxious. I was torn apart between the anxiety to call him and an urgency to forget him. However, I couldn't resist the former," Anu Sithara told Onmanorama. 
She added that the first quality of Vishnu that impressed her was that he values her words. Hailing Vishnu's fathomless love and care for her, Anu said that without Vishnu in her life, she'd have been reduced to yet another housewife or an ordinary professional.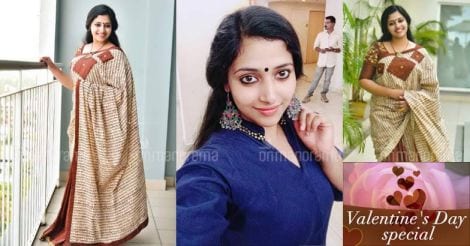 Photo: Manu Mulanthuruthi
"Vishnu is older than me for almost five years. Still people mistake him as my younger brother or cousin. I am envious of his evergreen appearance," Anu said laughing. The two had to wage a year-long fight to get united. Both the families were against the youngsters' decision. 
Finally, Anu's parents, who also had a similar love story, who got convinced first. "Vishnu's family did not agree at first but then they had known me right from my childhood. We were so strong about our decisions that the parents didn't have a choice but to agree," she said.
As the heroine of a priceless love story, Anu Sithara asks her fans and followers to experience pure romance on this Valentines' day. "I don't have any profound message to deliver. Just have a wonderful love life," She said.