Master storyteller and director Ranjith Sankar is a busy man. But he sure has time to slate our curiosity when the subject in question is movies – something he's been passionate about all through his life.
Sankar's latest movie Ramante Edenthottam has just hit theaters across Kerala. "I have always envisaged a visual romance project in Malayalam. After Pretham's success, I felt there would be no better time to work on it," he said.
Much like its name, Ramante Edenthottam has already created a wave among cinephiles owing to its heavenly locales.
Also read: Kunchacko-starrer Ramante Edenthottam: what you should know
Speaking on the importance of a good storyline, the filmmaker said that he has never imagined a super hero protagonist in his movies. "I come from a middle class background. So, my characters too are commoners - the ones you could easily spot in your own surroundings. For me, Sudhi (protagonist of Su Su Sudhi Vathmeekam), Ram (Ramante Eden Thottam), Punyalan Joy (Punyalan Agarbattis) or such survivors are real heroes," he told Onmanorama in an interview.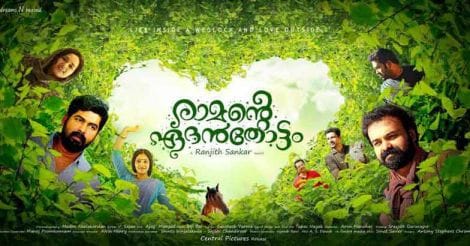 Finding an apt location was the most challenging hurdle during the production of Ramante Edenthottam, according to Sankar. "I had no preset plans regarding the location or cast. After planning the movie and scripting it out, we traveled a lot to find a matching location. Fortunately, a heaven was awaiting us, high up in the hills of Wagamon," he said.
Anu Sithara, the 'village girl' who danced her way into hearts 
Unlike other filmmakers who engage in self applauding, Sankar doesn't raise audience expectations sky-high with any kind of promises about Ramante Eden Thottam and is already busy with his next project.
"Let's see how this turns out to be. I don't believe in doing more number of movies, but in quality and relatability," he said.