While most youngsters who gatecrash weddings and parties with gay abandon pull such shenanigans to hog some good food, there are a few who do it for thrill. But when aspiring actor Rahul Ravi gatecrashed the wedding reception of Mollywood star Prithviraj six years ago, all he wanted was to build a network of contacts in the film industry.
The uninvited guest 'actor'
Rahul was all of 23 then. Along with one of his friend, the youngster managed to prank the security personnel and got inside the reception hall at Le Meridian, Kochi, in the guise of a cine actor. Although a bit embarrassed, Rahul has no qualms to open up about his escapade.
"I was an alien to the cinema world; someone who had no contacts or anything. For the same reason, I felt it was a golden opportunity to meet some celebrities. So I wore a good party-wear suit and rushed into the hall as if I were a well-established actor," laughs Rahul.
Well, it worked! While some approached him with offers, many engaged in a tete-a-tete with the handsome 'actor'. "I was careful not to look nervous. When everybody started acknowledging my presence, I realized that I have something that the movie folks could easily relate with. That very realization boosted my confidence," says Rahul, who identifies himself as an introvert.
From modeling to silver screen
Hailing from a middle class family in Thrissur, Rahul was always crazy about films and acting. Perhaps, it's the same passion that made the B.Tech graduate bid adieu to his corporate job and take up modeling.

Although it was an impetuous decision, Rahul proved that he was headstrong in his resolve to carve a niche for himself in the entertainment industry when he won the Hairomax Beautiful Hair Contest.
Winning the contest title kick-started Rahul's career. "I got a couple of contacts in the cinema circle after the contest. That is how Dolls (his first movie) came my way," he says. After Dolls, Rahul acted in Kattumakkan and Oru Indian Pranaya Kadha.
"I was quite afraid to approach Sathyan Anthikkad sir… People had warned me that he was pretty rude and arrogant. So, I was quite nervous when I approached him with the CDs of the movies I had acted in," he says. But the master director's smile changed all his preconceived notions about him. When Anthikkad saw him off, he promised to contact him when something comes up. Anthikkad kept his word. Very soon, Rahul received an invite to join the crew of Oru Indian Pranayakadha.
Handsome Haripadmanabhan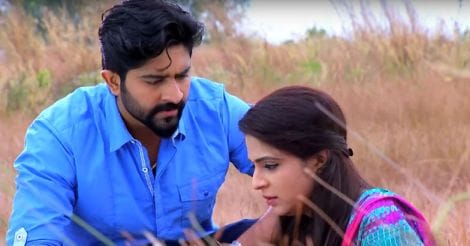 A scene from the serial Ponnambili aired on Mazhavil Mazhavil Manorama
But what really shot Rahul to fame his lead role in Mazhavil Manomrama's serial Ponnambili. As the romantic Haripadmanabhan, Rahul endeared himself to TV audience and youngsters alike.

"Serials and cinema are two entirely different kinds of experiences. Serials have such compact schedules, where they plan to complete six or seven scenes in a day. Movies give more time to practise and relax. Serials serve as a great platform to develop expressions and speed up the delivery of your perfect take," he says.
But make no mistake, the actor doesn't consider serials any less than cinemas. "These days, most serials involve technologies and expertise that are quite similar or equivalent to mainstream cinemas," he says.
As D4Dance host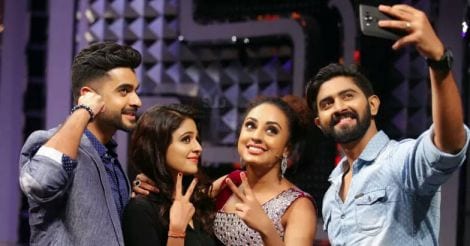 Adil Ibrahim (L), Hakha Jafar (2L), Pearle Maaney (2R) and Rahul Ravi
Today, Rahul is all the more popular among TV audience, thanks to D4Dance, Mazhavil Manorama's dance reality show, co-hosted by him, along with Hakha Jafar. "D4Dance unleashed the extrovert in me. (laughs) In fact, people who knew me well actually wondered how I could ever host a show. Acting is different. It is just about reproducing the scripted dialogues. Anchoring involves high degree of spontaneity in speech and action. Sometimes, I lose control over myself when I start talking on the stage.
"As D4Dance was a very popular reality show, I was very nervous about my performance. During the audition, I just said everything that came into mind and luckily, got selected. I still follow the same technique on stage," he quips.
Female fanbase
With his sassy style and good looks, Rahul has built quite a fan following on Facebook. "I receive a lot of marriage inquiries and proposals via Facebook (grins sheepishly). Many people inbox positive comments regarding my performance and some suggest ways to improve. I am extremely happy that people are keeping me in their mind. But I don't plan to jump into a wedlock and enter into a lifetime commitment any time soon," he says.
For the time being, Rahul has set his sights on a career in cinema. "I always hope for a good break in Malayalam cinema. I'm sure that moment is not too far," says Rahul, who is naturally disposed to look at the bright side of things.