Premam was in the air. The runaway hit was only being thought of and visualized when director Alphonse Puthren told Nivin Pauly about this young man who had a story. The youth happened to be from Nivin's place too. "There's a 'fire' in it. We could think about it," said Alphonse. Nivin Pauly nodded in agreement. He was willing to listen to the story.
A couple of days later, a lung-clad, thin-framed lad walked in to see Nivin. "I'm that boy Alphonse spoke to you about," he said in a timid and hushed voice. "I'm Althaf Salim".
One look at the diminutive Althaf would make one wonder whether it was this wisp of a boy who did it all… pen the script and direct a movie. A discreet Nivin Pauly does not disclose whether such a thought crossed his mind that day. He said he listened to the story, bit by bit. Alphonse could not have made a misstep! It surely had 'fire' in it! The narration done, Althaf got up. But Nivin asked him to stay on. A strong bond was forged between the two. It was the beginning of an enduring friendship. In the matter of just two hours, a celluloid giant was felled by a teeny bopper! But before Althaf left, Nivin told him he would produce the movie along with Alphonse. However, Nivin decided to do it alone as Alphonse was deep in several other projects. Thus was born Njandukalude Nattil Oridavela.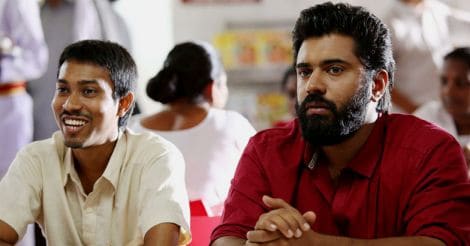 Althaf and Nivin in 'Saghav'
In an informal chat with Onmanorama, Nivin Pauly talks about the movie.
How could such a busy actor like you entrust this new movie to a novice like Althaf? How could you accept his story and visualize him as the director too?
Althaf also comes from my place. We have been good friends from my Premam days. He's no kid as he's made out to be. He's an adult, a voracious reader who goes deeply into what he reads. He can't help his boyish looks. What struck me was the humor which accompanied his narration. But he worked on the story several times and refined it to what you see today. By the time things were ready, the story was complete and Althaf already had a clear picture of every single frame. He had even zeroed in on the color of each costume his actors were to don.
Hasn't Althaf done a wee bit of acting?
Yes. He's had a role in Premam. Later, when Siddhartha Siva was contemplating Sakhav, Althaf was also around. I was told that he would be playing my friend in the movie.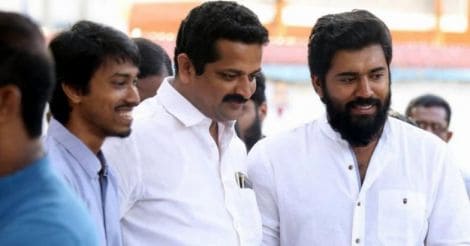 Nivin at the launch of the movie 'Njandukalude Nattil Oridavela'
Looks like a lot of your friends are in this movie
That's true. A lot of my Premam friends and actors have worked for this movie too and it's been a reunion for a whole lot of us like Saju, Kichu, Sharaf, George, Althaf, Vijay, Maju and Sibu. All of them have acted in this movie. And it's been like a new lease of life for all of us.
Now, what does that mean?
I've been a producer for the first time. It's Althaf's first as a script writer and director, Mukesh's first solo as cameraman, Justin Varghese's maiden performance as music director and for our heroine Aishwarya, it's her first movie.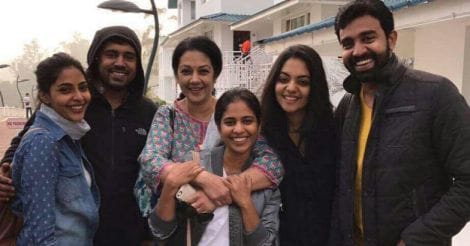 The 'Njandukalude Nattil Oridavela' team
What sort of a title is this? Do we get to see crabs in the movie also?
The title is Althaf's baby. He wanted the title to arouse as much curiosity as the movie is bound to. All that happens in the movie is the stuff of daily life, events that happen in every family. But it's told differently, not like all movies are. Its beauty lies in its narration.