Dileep-starrer Ramaleela has finally opened in cinemas after a slew of release date postponements and related controversies. Produced by Pulimurugan-fame Tommichan Mulakuppadam, the action thriller also has the distinction of being the most talked-about Dileep movie as the actor has been a remand prisoner for the past three months.
While Kerala society and social media are divided in their support for the movie, the director of Ramaleela, Arun Gopy, says the call for boycotts and bans on any public consumption pattern is sheer fascism. Apparently, Ramaleela was Arun's pet project – something that the debutante director incubated for over five years before finally hatching it on the reel.
They boycott beef, you boycott my movie!
Ask if the controversies surrounding Dileep's arrest have helped in the promotion of Ramaleela and the young director would shrug his shoulders and smile. "I don't how Ramaleela would have been, if not this way. When Sachy told me this story over half a decade ago, I did not know it would turn out to be. Maybe this is the most appropriate manner to narrate the tale of Ramanunni (the protagonist of the movie)," he says.
According to the director, boycotting or asking to boycott a movie is an injustice to the art. "It is painful for any artist and catastrophic to an art form. Any art is ultimately aimed at the audience. If the audience dismisses it owing to such factors, it's the art that's failing there. It's an instance where the audience defeats an art," he says.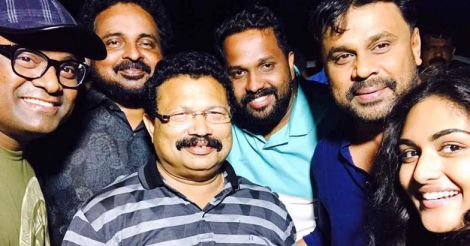 Team 'Ramaleela'
"When the Center asked to boycott beef, you sensed fascism in it. Why don't you sense the same when a group of people asks you to ban a piece of art owing to their personal preferences," he asks.
Why Dileep, why now?
"Neither I nor Sachy had a preference for specific actors while we ideated the storyline. But we wanted a versatile actor who could handle serious instances and comic scenes with equal depth. We wanted someone who could make the audience laugh with subtle humor even as he handled emotional scenes. He should have the stardom but with a 'next-door-neighbor' appeal. Who's more appropriate for the role than Dileep?
"Once we singled out Dileep, Ramaleela started progressing through him. Yes, Ramaleela is a true 'Dileep movie.'
Arun says that the crew did not schedule the release to coincide any political happenings. "Dileep was busy with his schedules and the movie took its sweet time to finish," he says.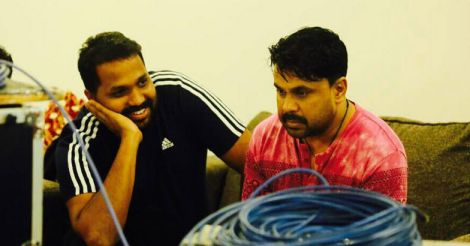 Ramaleela is a true 'Dileep movie', says Arun
Trust factor about audience
"Malayalam movie audience is a group of people who could never be cajoled or tricked into liking something inferior. You can't take the success of your superstar movie for granted nor can you predict the failure of an offbeat movie. They are a group of intellectual art-lovers who are well versed with world cinema. A good movie would be appreciated no matter what. For Keralites, what matters in a movie is art. That is one trust factor that keeps me going with Ramaleela," his words exude confidence as he adduces the example of Roman Polanski who was embroiled in an ugly controversy during the release of his movie The Pianist, which was later hailed as a classic. "No one even connects The Pianist with those controversies. It's the story of an artist's survival. I'm sure it will be appreciated," he says.
Through the crisis times...
Arun says he watched the news about the actress attack with disbelief and rage. But he never knew the incident would affect his life. "I never knew that it would affect my life this much. I bet you too wouldn't, had you been in my position. I wonder if Dileep himself had any clue about the case's impact on his life. Anyway, I think we should treat an accused as an accused itself until he's found innocent or guilty," the director signs off.