Director B.Unnikrishnan has never shied away from controversy. This time too, he's no different. His much-awaited, much-anticipated Mohanlal-starrer Villain is all set to hit the screens. Now comes the poser: Why such a negative title – Villain?
To this, the director has just one answer. It shall be "Villain" and only Villain. Perhaps, it's Unnikrishnan's faith and confidence in his own script, which prompts him to respond thus.
As Villain is in the final stages of chipping and polishing, Unnikrishnan opens up about the hurdles he had to cross while making one of the most challenging projects he had ever taken up. And quite like the barrage of Lal fans and the ordinary moviegoer, Unnikrishnan too feels the thrill, the excitement and the tension of pre-release blues.
What makes this Villain different?
"It's a compelling story of crime and detection. Yet, it has predominant elements of politics and philosophy woven into it. All these elements have been wrapped up within the entertainment quotient and I've endeavored to make it as wholesome as possible. Theme-wise, Villain is more intense than all my previous outings.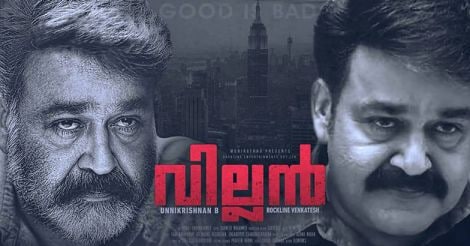 Poster of the movie
How about Mohanlal?
"It was Mohanlal who opened up all the possibilities of the story. Right from the word go till the curtains, he showed a keen interest in the nuances of the character and how he would evolve into his frame. That excitement and that drive are quite perceptible on him all through the movie.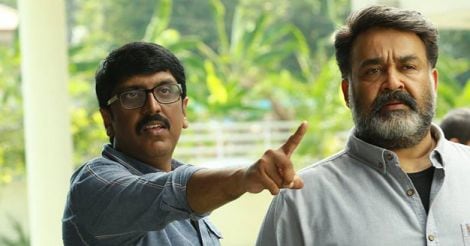 It was Mohanlal who opened up all the possibilities of the story, said Unnikrishnan
Truly international. That's all I can say of Mohanlal," said Unnikrishnan.
But why the salt and pepper look?
"Look carefully and you'll see that familiar Lal look in all three of my movies, Grandmaster, Mr. Fraud and now, Villain. It's purely coincidental. There's been no conscious effort behind that particular strain of look. He plays a DIG in Villain. The story begins from a particular point of time in his life. And his mature look has to match the maturity of his character from where the movie takes off.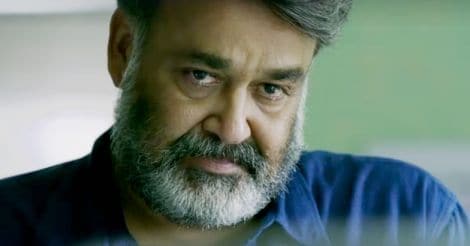 "Mohanlal got himself fit and fine for the role after a rejuvenating Ayurveda holiday. All said and done, there's an indefinable charm, which wraps Mohanlal in this mature getup.
How about Vishal?
"As the story evolved, I started picturing Prithviraj alongside Mohanlal. When we decided to halt filming and have him in, we heard that Prithviraj was abroad, busy with another shooting schedule. That's how we went in for other options. And Vishal was on board. He said pause to two of his schedules and joined us.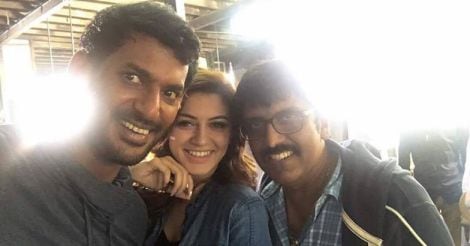 Vishal, Hansika with Unnikrishnan
What's the suspense element?
"Right from Oru CBI Diary Kuripu, this trend of looking out for suspense has never deserted the Malayali viewer. But such trends can never decide the pull of a movie. No one can predict whether it will enjoy a hit or a miss.
"You may succeed in sharing suspense and thrill, but nothing can be compared to the live thrill you feel crawling up on you as you watch the move in real time."