Shanthi Krishna, the yesteryear girl-next-door actor, has not changed a wee bit. She's the same old charmer who worked her way into viewer's hearts with her affability and innocence in the eighties. With an influx of newbies across the film firmament, vintage actors like her quietly faded into the background. Though she made a comeback of sorts in 1991, she left the scene soon.
Call this a third return and this time around, she's all set to stay. In a candid face-to-face on Manorama's chat show 'Nere Chovve', the lovely lady opens up about her life, the knocks she took and how she has finally decided to be the brave woman she truly is. Here goes the actor.
Your third return to the screen was quite unexpected. Do you think it's a hopeful sign?
Certainly. That's how I see it. I pray that this will be a new start, a fresh beginning. What I played in the movie Njandukalude Nattil Oridavela, it was a totally different character, someone I've never portrayed before. Sheela Chacko is so much like the real me of today. I'm strong and empowered now.
You've been away for long. Are there any perceptible changes to the sets? Have attitudes changed?
I least expected such huge technical changes. The sets have changed so much. The technique of watching each move of an actor on a computer screen is something that's totally new. We never had the luxury of resting in our own caravans those days. Caravans come in handy when we do outdoor shoots.
Now coming to attitudes, I must say that the youngsters are so amiable and they welcome us wholeheartedly despite all of us being so much older than them. If you are good to them, they reciprocate and are good to us also. My team-mates on this movie were all youngsters. Lal and I were the only senior actors. I'm so happy I have quite a bunch of good friends, thanks to this movie.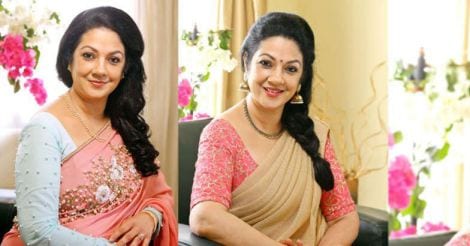 Freedom does not mean you can get away with hurting and insulting people and saying or writing whatever it is that comes up to your mind, says Shanthi
We noticed that you strongly reacted to certain social media trolls. Is this your general attitude towards the social platform?
I've always believed that social media should be used in a positive way. Freedom does not mean you can get away with hurting and insulting people and saying or writing whatever it is that comes up to your mind. There's no point in saying that freedom is one's birthright and then use that freedom to attack people. Why not use freedom as a tool of one's conscience. If used with discretion and wisdom, social media is the best forum to send out positive vibes. I'm aware of the finer goodness of social media, but I'm not active on it.
How different are you from the good old Shanthi Krishna and the Shanthi Krishna of today?
I've changed. The old Shanthi was very quiet and reserved. Not just that. I knew very little Malayalam then. Now I've turned quite talkative. I've gone through a lot. With all that happened in my life and with the maturity I acquired along the way, I brought in changes to my life, outlook, and character. If I don't know something, I seek out those who know all about it and go by their advice. That's the way I like it now.
You became a member of the jury when you were disconnected from movies. How did you feel about Malayalam cinema then?
The change in the tone and tenor of Malayalam cinema was startling … quite alarming, in fact. There was no stereotyping. Each cinema was different. But there was hardly any story-centric movie. Besides, some of the movies selected for the award criteria were way below any quality or standard. But there were a few good ones like Dulquer's Kammattipaadam and Nivin's Action Hero Biju. Both Dulquer and Nivin were not acting. They were living out their roles. That's why they clicked. The earlier movies were heavy on dramatic content. They were more like stage plays. But present-day movies are a reflection of life and when you see the characters you feel a lot of affinity with them. You tend to compare yourself with their roles … their traits. There's more of life and reality in movies today.
Why is it said that you need luck and not talents alone to make the cut?
You need a lot of luck to hang on to this fiercely competitive domain. It's no secret that there are or have been so many talents that have been swept aside. It's not just actors alone. Aren't there directors, others, who have been denied a chance to come up?
Where and how has luck been a decisive factor in your life?
This is my third-coming and luck has played a huge role in it. My entry into films happened just like that. There was nothing particular that propelled me into movies. There was this curiosity about cinema apart from the excitement of doing a role. It was this element of curiosity plus the excitement which prompted me to do Nidra. Then I stayed. I'd like to call that luck. But luck alone was not what kept me going. I see God's blessings behind it all. That could be why the nineties offered me so many chances. Movies came seeking me, not the other way round.
Right now, I'm back not because I have nothing else to do. This time too, this offer came to me quite unexpectedly. I can't even remember where I was when the call came. Call it luck, a miracle, divine blessings or whatever. I'm devout in my trust in God.
If you are offered good character roles, are you willing to do them irrespective of the consequences?
I've always done good and strong character roles. I've to thank the viewers here for the positive response I got. It's they who egged me on and gave me the freedom to take up roles irrespective of the 'image' factor. After Kireedom, came Chenkol with Sibi Malayil directing and Lohitadas doing the script. When they narrated the story, all I knew was that my mind was so full of the movie. I played the heroine's mother in Chenkol. I just wanted to do it. Not for a moment did I pause to think I would even have to play Mohanlal's mother! At the same time, I wasn't scared that I would be nowhere if I'd rejected that mother role. It so happened that those were the roles I got then. I went along with them. That's all there was to it.