Gautham Vasudev Menon is no run-of-the-mill director prepared to stitch together a movie for the masses with all the predictable cliches. He never deviates from his convictions while making a movie. Those convictions have earned him a name in Indian cinema.
Menon is donning the greasepaint for a Malayalam movie, albeit in a guest role. He spoke to Manorama about his career and style of moviemaking.
Tell us about your acting stint in Malayalam.
I am acting in a movie named Naam. The director, Joshy Thomas, called me up one day. He later met me and told me about the story. He also showed me some visuals he had shot. I liked the story. Then he told me that it was nice if I could act in the movie. He convinced me about my role. Mine is a guest appearance but that scene leads to a bigger scene. They came to Chennai to shoot my part. I am acting as Gautham Vasudev Menon.
How do you manage to get such beautiful songs in all your movies?
My scripts have songs. I do not go to a music director asking for a love song or a sad song. My script would have at least two pages of description about the song. About the mood of the song, its context and the nature of the lyrics. That makes the music director's job easier. Moreover, I had the opportunity to work with excellent music directors. I got their best works. Writers like Tamara matched the good works with excellent lyrics. That is how those songs were born.
Most of your movies are about love. Is it deliberate?
Even if I do a police story, there has to be an element of love in it. I think people like it. My latest movie, Ennai Nokki Paayum Thota has love in it. The movie with Dhanush as the central character is an action love story. 'Dhruva Natchathiram' is a spy thriller. It has two loves. I like including love in a movie. It is easy.
What elements do you add in a movie?
I cannot guarantee that a movie will be a hit. I am supposed to add certain elements to make it a hit. But I do not do that. I never think of the direction of a script when I write it. I just follow the script. I have even shot based on the first draft of the script. I shoot what the script demands. I do not add mass elements. I believe my movies have the commercial recipes they need.
What do you learn from your failures?
Some movies end up failures. I do not think about its reasons. I do not analyze my failures. I have asked the same question to Mani Ratnam once. How to overcome failures? You do a good movie and move on to the next. Never bother what the people say about it. That is what he told me.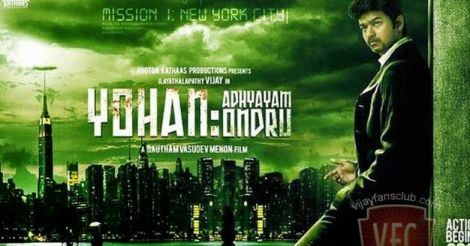 Why did you drop the project with Vijay?
He wanted yet another stylish movie. I do not know how to do it. We traveled together for six months, always talking about the movie. We announced the project, the photo shoot was completed, even the poster was released. When I read out the script to him, two weeks short of the shoot, he told me he could not do it. He did not say any reason but only said it would not work out for him. He told me to come back with another script.
How do you react to the recent incidents that threaten cinema and the freedom of expression?
I am walking a fine line. A director should know what he wants to show. He should have the freedom to choose what he wants to show. I had to depict violence in Vettaiyadu Vilaiyadu. I had to because the movie was about a serial killer. That movie received a 'U/A' certificate. We did not argue for a 'U' certificate.
The director has to decide what to show and what limits to set. I have not shown that movie to my children because I know that movie is meant for them. I am bothered by the thought that my movie is not suitable for my children. I will think about it when I do another movie.
How did Vikram replace Suriya in 'Dhruva Natchathiram'?
Every script has a life of its own. When I told Suriya the story, he could not fathom it. When I told the story to Vikram several years later, he immediately told me we should do the movie. This movie can be shot in sequels. The success of any sequel depends on the success of the first movie. The shooting is in the final stage.
About the new directors in Tamil.
I watch all the movies from the new directors. If I like the movie, I send a message to the director or tweet it. We have to give way to the new people. Directors like Karthik Naren, who did Dhruvangal Pathinaaru,' have a clear idea about cinema. That is why I committed to produce his next, Narakasooran.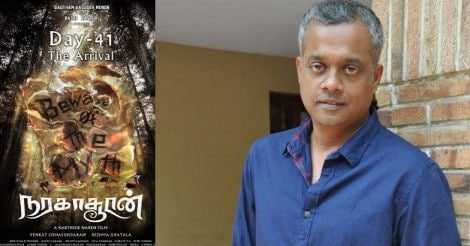 About Malayalam movies? When will you direct one?
I would seriously love to do a Malayalam movie. I have talked to Fahadh, Prithviraj, Nivin and Vinayakan. I talked about a project with Lal sir even two weeks ago. I will do a Malayalam movie next year for sure.