Sudhhy Kopa has found a niche for himself in Malayalam cinema with his portrayal of many interesting characters both big and small. He entertained the audience with his amazing performances in films like Udaharanam Sujata, Anuraga Karikkin Vellom and Aadu to name a few. Sudhhy continues to wow his fans in his latest movie Paippinchuvattile Pranayam in which he has donned a different and unique character.
Breakthrough in movies
I always desired to act in films, and have wandered at least for 12 long years on movie locations looking for roles. Even though director John Ditto gave me a small role in his movie Valmikam, it was only in Amal Neerad's Sagar Elias Jackey that I got a chance to mouth a dialogue. Amen came much later and I played the role of the youngster who tries to woo Fahad's sister. Luckily that character got clicked. Geevarky, Chemban Vinod's sidekick in Saptamashree Thaskaraha, Kachavu Soman in Aadu earned me good reviews, so did the roles in You Too Brutus, Alamara and Oru Mexican Aparataha.
Here goes the super star
While I was looking for a chance to act in movies, people at my place used to mock me saying, "oh he wants to become a super star". But hardly did they know that I was an admirer of Shankarady, Oduvil, Nedumudi and the like. I am very fond of the kind of roles that Shankarady used to play in Malayalam cinema.
Latest movie
My character's name in Paippinchuvattile Pranayam is Ayyappan. It is entirely different from all the other roles that I did so far. Neeraj Madhav is the hero and the movie is directed by Domin D'Silva. Aju Varghese, Dharmajan and many others are there in the movie.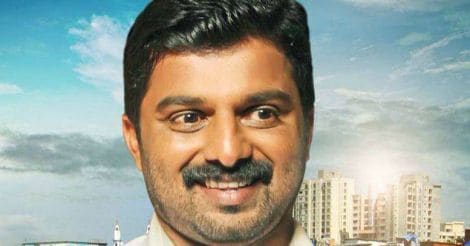 Thiruvananthapuram dialect
I am a native of Kochi. So, it is obviously a bit difficult to master other dialects. In Udaharanam Sujatha, my character stayed at the colony along with Manju Warrier. I received a lot of appreciation for that role. I speak in Kannur dialect in Eeda which is slated to release in January.
Any advice
Everybody loves to act in movies. But more than the desire, you should realize whether you have the potential to do it or not. If you are confident and hard working, then success won't be far behind.
Family
My father Shivasankara Pillai worked at the Travancore Cochin Chemicals, and was very active in dramas and ballets. He ran a troupe called 'Creative Theater' at Kaloor and I was also a part of it. My mother's name is Shantakumari and wife's Vineetha. I have a son, Yayati.
About the name
People usually wonder whether the 'Kopa' in my name is my family name or a mere funny suffix meaning a 'glass tumbler'. While roaming around with mimicry and drama, I took the first letters of the name of place Kochi Palluruthy and added it to my name just for fun. Hence Sudhhy became Sudhhy Kopa. Since my friends had already fixed this name on me, I can't help but carry it through.