For 28 weeks, they had been breaking out their best moves in hopes of wowing the finicky judges and voting audience. And when Eastern D4 Dance Junior v/s Senior wrapped up its fourth season on Monday with a rousing finale, the show that witnessed the best dancers from around the country got its winner in Soorya.
His victory certainly came as no surprise to the loyal viewers of D4 Dance. The 12-year-old was considered by many to be the frontrunner ever since the dance reality show began in May 2017.
Interestingly, the preteen, who had a passion for country dance from a young age, was trained for the show by his own father. Soorya's father, Sreejith, works as a freelance choreographer. But Soorya says he had a hard time convincing his dad he was meant for reality TV show stages.
"I am not new to D4 Dance. My father's students had participated in the last season and I had danced with them in group performances. But when I asked my father to take me for the next season's auditions, he said I was too young to take part in a reality show. He was then dealing with a financial crisis. So I managed to convince him and made it to the auditions," says Soorya.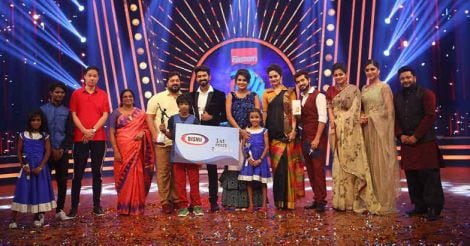 However, Sreejith couldn't support his son all through the season. "After my first few performances, my father had some major professional commitments and got busy with it. So, he couldn't help me with my further performances. It was Vishnu, a participant of D4 Dance third season, who trained me for each level after that. I owe my success to Vishnu 'chettan' and my parents. The three of them have really struggled to make me achieve this trophy," he says.
Although Soorya is already a celebrity among his friends at school, the dancer kid considers himself a relatively shy person. "Yes, I have danced on several stages – from youth festival venues to TV programs. Yet, I feel so timid when people gather around me when they identify me as a reality show contestant. Friends and classmates have asked me to teach them good dance moves to perform for Christmas celebration. I feel overwhelmed by it as I'm too young to take such comments. But I would definitely help them," he says with a self-effacing demeanor.
"My father is a great dancer himself and has always dreamed big about my future in dance and choreography. Though he has trained a lot of talents, he has never imagined that I would make him proud. He always thought of me as a kid. But I used to keenly observe the dance moves of his senior students and imitated them with great interest. That is how he started giving me dance lessons. He is my teacher. As for mom, she has never discouraged me from anything that I did with true passion. She has always had a great trust in my talent."
But if you thought Soorya's talents ended with dancing, you are wrong. Soorya is also into painting. "I enjoy painting portraits and scenery. Although I have never taken it seriously, I think painting also has a role in my life. I also enjoy doing mathematical problems."
So, can we see him as a dancer or painter someday? Well, Soorya smiles away. Because you can't really say. "I want to become a Naval officer. But I shall always keep dancing close to my heart," he says with a modest simper.