It has been 40 years since Mathu acted in her first movie. Sanadi Appanna, the Kannada movie, released in 1977. In the next 20 years or so Mathu or Madhavi, bloomed into the beautiful star who acted across South Indian languages and conquered many hearts. She was one of the most versatile female actresses of the time, appearing in star studded commercial successes like Mattupetti Machan and critically acclaimed gems like Sadayam and Amaram.
Then one fine day she disappeared from the film industry to marry Dr. Jacob and soon after quietly moved to America.
Malayali movie audience certainly missed her. They asked about Mathu whenever an older actress made a comeback in movies.
Recently, after an interview with actress Shanthikrishna appeared in Vanitha, we got a call from a good soul who had spotted Mathu in the city of New York. There, she lives in an apartment with her two kids Jamie and Luke. We tracked her down for an interview. A lot has happened over the years since she left her career in year 2000. In a candid conversation with Vanitha, she opened up about her past life as a busy star, the event that led her to embrace Christianity and change her name to Meena, marriage and kids, and her hopes for the future. After 17 years of staying away from the limelight, Mathu is ready to come back to movies and her beloved audience.
40 years in movies. That's impressive.
I began as a child actress in Sanadi Appanna. My dad Venkat Rao had close ties with the cinema world. Mother Santhamma and elder sister Sarala had acted in movies. Sanadi Appanna won me Karnataka State Government's best child actor award. I continued as a child actor in Rajanikanth movies Bhairavi and Neeya. I did Kovil Mani Osai after a 10 year gap. I did two more Tamil movies before I did Pooram in Malayalam.
How did Madhavi become Mathu?
Pooram was my first Malayalam movie. Nedumudi Venu was the director. He gave me the name Mathu as there was already a famous actress with the name Madhavi.
I was apprehensive about the role as Malayalam language was foreign to me. Nedumudi Venu was supportive and encouraging all throughout. That gave me the confidence to take up more projects in Malayalam. Kuttettan and Amaram followed. I had embraced Christianity by then.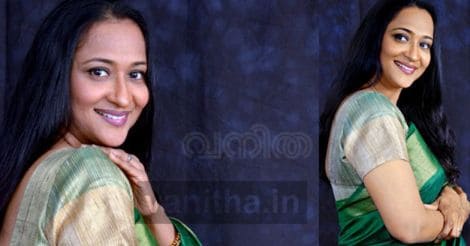 Not too many were aware of your conversion to Christianity. Rumor was that you changed religion for marriage. Was that true?
I became a follower of Jesus during the making of Amaram. There was a compelling emotional reason behind it. Immediately after Kuttettan, I was offered the female lead in Perunthachan. It was a prestigious project and I was looking forward to be a part of it. As I waited to join the crew the news came that my part was given to Monisha. It pushed me to depression. My mother took me to Sahayamatha Church where I broke down in front of the idol.
I returned home to a call offering the role in Amaram. I thought it was a prank played by someone who knew the Perunthachan incident but mother confirmed with the team. That incident cemented my faith in Jesus. I converted to Christianity with the backing of my parents. I changed my name, too. But the title cards of my movies continued to use Mathu. I am a firm believer. My children also follow my faith.
Did Amaram change your life?
That was the best role of my career. It was just my third movie in Malayalam. The project was a collaboration of stalwarts of Malayalam film industry—Bharathan, Lohithadas, Mammootty and Madhu Ambatt. What more could a budding actress ask for. The movie was the biggest hit of my career; the character of 'Muth' is still etched in people's memory.
I still remember director Bharathan's affirming reaction when he first saw me in the character's costume, the long skirt and the rustic blouse that define the coastal women's identity. They gave me the dialogues just before the takes. The scenes were mostly shot in the mornings and my skin began to tan as the shooting progressed. By the end of filming the crew used to joke that I really looked like a woman who lived by the sea.
You have acted with both Mammootty and Mohanlal. How was the experience with each of them?
I was wonder struck by Mammootty's aura when acting in Kuttettan. I was scared when delivering dialoges; tensed during retakes. Mammootty was very patient though. The whole crew would round up around a table during dinner and play some sort of game. Everyone had to perform something. I would learn a song for each dinner. These gatherings wiped away my fears. By the time I met Mammootty again on the sets of Amaram, I was familiar with him. I would learn the dialoges prior to the scene.
Sadayam also had a crackling team behind it—Sibi Malayil was the director and M T Vaudevan Nair was the writer. Mohanlal is a jovial man who puts everyone at ease. He would tirelessly sign autographs and engage with his admirers. He was a man of few words though. The movie is 25 years old now. I feel I missed a lot of such opportunities in the last few years by staying away.
The ten years after Amaram were phenomenal. Tell us about those years.
I got incredibly busy after Amaram. I stayed in Kerala, never left even when there were no films to shoot. It's a wonderful place with pleasant weather and clean air to lead a healthy, laid back life.
There were very few movies without the presence of Jagathy chettan (actor Jagathy Sreekumar). K.P.A.C Lalitha and Philomina were also part of most movies. My parents and brother Madhu were my critics and confidante, they kept a close watch on acting to make up.
Did you get any romantic proposals from the industry?
Of course, I did. I was equally attracted to a few at that time. You see, I was young and it was easy to get infatuated. But none where serious enough to pursue. The idea of marriage came after a few years into the profession. My family wanted me to get married at a certain age. When I revealed the man of my choice everyone agreed.
The only regret I have is leaving abruptly without bidding adieu to my audience. I kept them in the dark and I apologize for that.
Did any unpleasant experience cause you to leave cinema industry?
I had no such experience, fortunately. I was extremely cautious. I avoided traveling alone. My mother was a constant companion to filming sites. We were accompanied by a hair dresser and make up assistant. I envy today's generation, they have the courage to travel alone and speak their mind. The actress abduction and attack case was a definite shocker but the courage of the victim to come out and fight the legal battle is a sure sign of changing times. She is a brave-heart and I have immense respect for her. I can tell as a person living in the US for more than a decade that Kerala has a long way to go in giving women their due respect. Women are still objectified and exploited. My children fear going to Kerala. The Delhi Nirbhaya incident of 2012 has increased the concern about women's safety in all of India.
Was it tough to cope with the shift from the busy life of a movie heroine to the quiet life of a homemaker?
One cannot compare real life and reel life. Here with my kids, I don't have to act. I was a rookie in kitchen, in the first few months after marriage that was my constant worry. I learned everything slowly with the help of recipe books. I am a decent cook now. My children love their grandmother's dishes though.
Your fans never gave up on you. Did you ever feel the pull to come back to movies?
I used to prank people about my identity. I took their enquiries lightly. I don't do that anymore. Some try to keep in touch through Facebook. People send me lovely messages. A comeback won't be easy though. Kids are my priority and I want to be with them for now.
Still friends with anyone from the cinema world?
I had very few friends in the industry even when I was active. Actress T.R. Omana used to keep in touch. Mother was very close to her. We stayed at her place in Chennai three years ago. There is a camaraderie between the actresses staying in America. I talks to Shanthikrishna often. I have two very close friends here, Rachel David and Lisa John who were my pillars of strength when I was going through a tough time.
Are the kids interested in an acting career?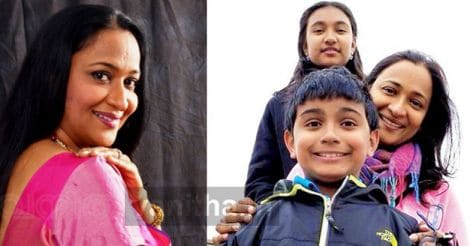 Jaimie is in 8th grade and Luke in the 6th. Luke has a black belt in Karate. He loves to imitate characters from cartoons and games. Both were unaware that I was an actress, they got to know that from their friends. My mother showed them all the movies in which I played a child actress. Since they don't understand the language they never finish watching any of them. Jacob is very close to them. So any decision on their career will be his call, too.
You left career for marriage. Was that wise?
It was not marriage but the distance from US to Kerala that put a stop to my career. Jamie and Luke were a handful and I lost connection with the industry. I initiated the dance classes to keep myself engaged. I am a movie buff and especially love Manju Warrier flicks.
As someone who played the role of Mammooty's daughter, it was a pleasure to watch Dulquer Salmaan (Mammooty's son) playing the lead in movies. I would love to associate with a movie shot here. God once brought me the best chance to raise me from the depths of despair, I am sure he would give me a second one.
(Original interview was published in Vanitha)