Director Jeethu Joseph who likes to experiment with all kinds of genres is now all set to introduce another star kid, Pranav Mohanlal or Appu through his upcoming flick Aadhi.
For the fans of Mohanlal, Pranav is nothing short of a 'Rajavinte Makan' or prince. But those who know Pranav very well say that simplicity is his greatest strength. Jeethu too, who took Pranav under his wings as a young assistant director and now introducing him as an actor, vouches for him. Jeethu Joseph talks about Pranav Mohanlal and his soon-to-be-released movie Aadhi.
What is Aadhi about?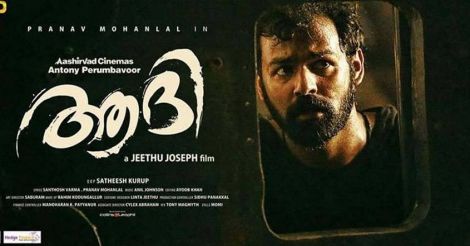 Aadhi is a movie in the 'action' mood. But it is not a 'mass' movie filled with dare devil action sequences. The movie basically is about Pranav Mohanlal's character called Aditya Menon trying to deal with a precarious situation in his life and how he tries to survive it. It also deals with Aadhi's family, his challenges in life and so on. The movie is an entertainment with the right doses of all the necessary ingredients to make it exciting.
How is Paranav's acting skills?
Other than a few minor difficulties of a new comer, Pranav did act very well. It is only when we drive on road that our driving skills get polished. Similarly, Pranav too would do well in future. Audience will understand that acting is in his DNA once they see his performance in the movie. Appu really likes to act. Not just acting, Appu has many other genuine interests too and he is always ready to work hard for them. If Appu decides that movie is his forte, then Malayalam industry would definitely get another exceptional actor.
How did Pranav do his action scenes?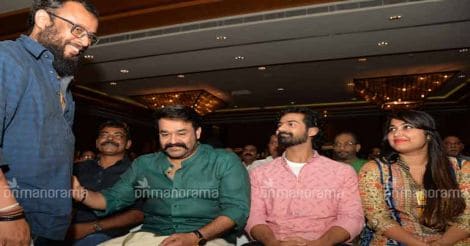 A training discipline called Parkour has been used in Aadhi, but the movie is not entirely about it. This action discipline which is widely used in Hollywood is featured in Aadhi also. A group from France has trained Pranav in this discipline. Appu has performed the action sequences with perfection. Mohanlal is somebody who tries to avoid using dupes in his movies. But he told to hire dupes to perform action sequences in Aadhi. Pranav was not interested in that either as he liked to perform the stunts all by himself. There was a dupe to stand in with the team from France. But Appu performed his stunts himself except for one scene. Two big leaps in the action scenes were done by Appu pretty much effortlessly. In fact the dupe was used in a comparatively easy stunt. All the other dangerous stunts were easily performed by Appu.
How did Pranav prepare himself to transform into Aadhi?
The character in Aadhi offered immense possibilities for Pranav when it came to emoting or acting. In one of the scenes Appu's character sings while playing a guitar. Appu knows to play guitar a little bit. He never got professional training in it but taught himself by watching YouTube videos. Before the filming of that song, Appu sat with the movie's music composer Anil Johnson and the guitarist to learn how to play guitar for that song. Appu has approached this movie with so much of dedication and hard work.
The news about Pranav getting injured while shooting a scene was doing the rounds in media
I still get the shivers when I think about that incident. I was upset to know that Pranav got injured. It was a scene where Pranav would shatter a glass pane. When he took off the glove after the shot, there was deep gash. Appu just walked away saying he would go to a hospital but I was worried about what I would say to Lalettan. It was only after a while that I was able to think and act properly.
What did Mohanlal and his wife Suchitra say about the movie?
For me this movie was a great responsibility as Lalettan had entrusted me with the charge of Appu. I must confess that I was a bit tensed about it. Suchi chechi knew it, so she used to call me at times and gave me confidence. Lalettan too would curiously enquire about the movie and Appu.
Are Mohanlal and Pranav similar in their ways?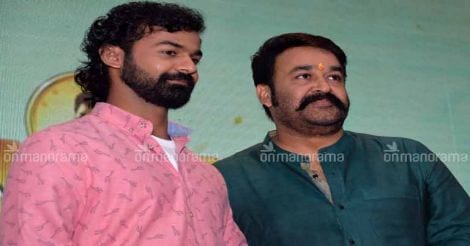 Both of them are excellent professionals. Their dedication and commitment to work are amazing. Mohanlal and Appu are humble and very calm. I think this modesty and calmness of Appu are his greatest qualities. He is definitely his father's son.
Do you think it is right to make movies with super stars in a way to satisfy their fans?
I am not against any kind of movies. I am in fact a person who loves to watch and make movies in all genres. Audience too likes to watch every genre; those which are liked by the majority go on to become a hit. Some say Memories is my best movie, while some mothers think Mummy and Me is. Every person has a different taste when it comes to movies. There should be 'mass' films and comedies as well. I like the movie CID Moosa very much. My films are usually neither too realistic nor too cinematic; I like to stick to a middle path where there is equal dose of reality and cinematic elements. I have made Aadhi too in this way. The character in Aadhi belongs to the current generation of heroes. He is just a commoner, so nobody should expect him to perform 'super natural' fight sequences.
Are you tensed as Aadhi is one of the most awaited movies?
Well, I am tensed. This movie grabbed attention even before the filming began. I know that fans and cinema lovers have high hopes and are eagerly waiting for it. I believe that I will be able to keep up their belief in me. I have only one thing to say. Please don't go to watch the movie with high expectations. This is not a 'gigantic' movie. But I assure you that there is everything in the film to entertain the audience.