After the successful movies like Kismat and Parava, Shane Nigam has almost become a house hold name. Though he has acted only in a handful of movies so far, Shane's performances have garnered positive reviews from both audience and critics alike. Hailed as one of the most talented young actors in Malayalam cinema today, Shane has already found a place for himself in the hearts of the Malayali audience. Even when his latest release Eeda is running into packed cinema theaters, Shane is still mourning over the unexpected demise of his father, actor and mimicry artist Aby.
Is Shane Nigam an introvert?
I am a little hesitant to start a conversation with somebody whom I have just met. I will be more comfortable after striking a friendship with them. Even at the sets of Eeda, I was only able to find myself in a comfort zone only after a few days of filming. I could become friends with Nimisha only then and after that it was easier to talk about and evaluate our scenes and also act well.
Who paved the way to filmdom?
I have acted in a scene in Anwar. Actor Soubin Shahir was an assistant on the sets. I was aware that Soubikka was acting in Rajeev Ravi's Annayum Rasoolum and we were good friends by then. At that time nobody was cast in the role of Anna's brother, Kunjumon. So Soubin suggested my name to Rajeev sir and I got the opportunity to act in that film.
Are you selective when it comes to roles?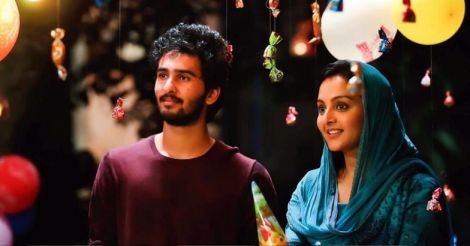 A scene from the movie 'C/O Saira Bhanu'.
I did not choose Kismat, but the movie chose me as the character. I acted in C/O Saira Bhanu immediately after the filming of Kismat. I really liked the story of that movie. Soubikka had casted me in Parava even before Kismat. I did not have to think twice before giving the nod for Soubikka's movie. I am committed to a few films in the coming year and all those films were chosen by me after listening to the screen play.
Some people compare you with actor Fahadh Faasil?
Fahadikka is somebody whom I respect a lot. After watching movies like Annayum Rasoolum and Chaappakurisu, I have become a huge fan of him. It makes me immensely happy to hear that people compare me with Fahad Faasil. But I have a request. Please don't compare people. I just have to say that everybody deserves a space of their own in this industry.
Did you ever wish to be an actor?
I had a genuine desire in my heart to become an actor. But I never told it to anyone. I still like to learn cinematography. It was my wish since childhood. I really want to do some work as a cinematographer. I entered the film industry at a time when even my father did not have opportunities. It was my dream, which seemed almost impossible, to act in the movie directed by somebody whom I admire a lot. Soubikka had suggested my name to Rajeev sir. I am really grateful to Soubikka and Rajeev sir for what I am in cinema right now.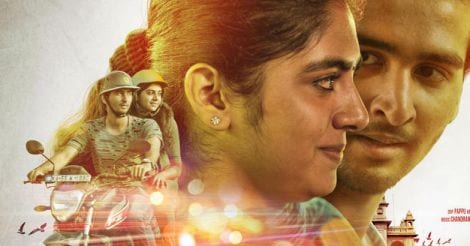 Poster of the movie 'Eeda'
Will you leave acting to become a cinematographer?
Cinematography is my greatest passion. I had the opportunity to work in Bombay Velvet. I was a college student then and there was also another movie in the pipeline. So, I could not take up that opportunity. I really wished to work along with Rajeev sir after college. I hope to ask him for another opportunity sometime in the future when the time is right.
What are your intentions for the future?
I wish to act in some good movies. If I keep doing movies one after the other, it will be so mechanical like the functioning of a machine. Then there won't be any space for creativity. Even now I feel so sometimes. Happiness is when we do what we like or desire. I will be acting in such movies which I really feel connected to. I wish to study when I get some free time.
About the most important advices your father used to give you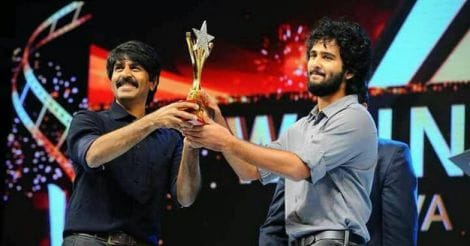 Shane receiving award from his father Aby
There are many. I cannot figure out just one or two. There are certain things which need to be taken care of at particular times. Vappichi had shared many such things during different situations often giving advices about how to behave during certain circumstances or even pertaining to acting.