Even though it has been two years since the super hit song 'njanum njanum ente aalum' was released online, the beautiful song and its charming visuals are still fresh in the minds of the Malayali music lovers.

The movie enthusiasts have since been waiting eagerly for Poomaram starring Kalidas Jayaram in the lead to hit the screens. Finally, the wait is over, as its director Abrid Shine has announced the release date. Poomaram which went on floors at the Maharajas College ground on 16th September 2016 will be released on 9th March 2018. Director Abrid Shine talks about his unforgettable journey and reveals more about Poomaram.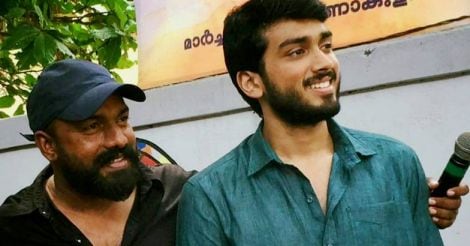 Abrid Shine with Kalidas during the shoot.
The unusual wait of seventeen long months. Why did it take so long to announce the release date of Poomaram?

Poomaram is a campus movie. The movie is about a college, its students, their art, talents and festivities. The screenplay of Poomaram, in fact, evolved along with the filming. During the initial days of shooting at the Maharajas College ground, I realized that I wouldn't be able to complete the filming as I had imagined. I really wanted to release the movie in 2017, but I was apprehensive from the very beginning that the visuals were not as perfect as I wanted it to be. I understood that I would be able to execute the kind of visuals that I want, only if I plan it meticulously with a lot of patience. So I decided not to proceed with a release date in mind. Instead, I tried to capture those visuals which I have envisioned and make the movie as amazing as possible. The hard work and patience of a lot of people had gone into the making of this movie. I would say it was a perfect team work from everyone including actor Kalidas and producer Dr Paul.
There are lots of trolls on social media making fun of Poomaram?

I am a person who enjoys genuine humor. All my movies have ample doses of humor in them. I guess the trolls on Poomaram were based on standard humor. I don't have a Facebook account, but Kalidas announced the releasing date of Poomaram by sharing one of such trolls on his Facebook page.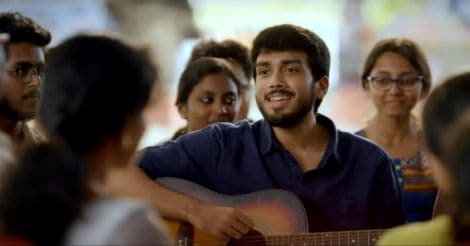 Do you think that the song from Poomaram has lost its charm by now?

We began shooting in September and the song 'njanum njanumentalum' came out in November. The song is heard on radio or viewed on YouTube so far. In fact, more than two million viewers have watched the song on YouTube. It would definitely be a unique experience to watch the song in a theater. May be, people think that it has lost its charm because the song became such a huge hit as soon as it was released. I can assure you that a handful of more beautiful songs are in store for the audience to enjoy in Poomaram. It will be truly a musical journey.
It was heard that the making of Poomaram has shattered all conventions in film making?

I am just three movies old as a director. I am not very familiar with the institutional ways of movie making. The only thing that matters to me is how well I can communicate the theme of a movie to the audience how beautifully it can be made.

There are several newcomers in the movie?

Yes there are several new talents. All of them have given their heart and soul to this movie. I don't claim that I have provided great opportunities to all of them. They have experienced this movie along with me. There are new talents in acting, composing, and singing and in almost all departments. I would be really happy if this movie becomes a stepping stone for them to achieve greater heights in their careers.