Former captain of Indian football team, VP Sathyan, did not commit suicide as widely believed, says his wife Anitha. "Sathyan cannot commit suicide. It was an accident, not suicide. I had insisted on seeing his body after I was told about his death. Save for a small injury behind his head, there were no other wounds anywhere on his body. His body didn't look like that of person who had thrown himself in front of a train. His shoes were still intact. I had seen this for myself," she said.
Captain, a biopic directed by Prajesh Sen, is based on the life of the ace footballer. It received rave reviews after it released on February 16. Talking to Onmanorama, Anitha shared her thoughts on how the movie has revived memories of Sathyan in his home state.
Did Captain bring back the tears?
As a movie, I would say Captain is well-made. Jayasurya looked so much like Sathyan on screen, especially so in some particular angles. Yes, my eyes were welling up most of the time. But when I gave my permission to make his story into a movie, my intention was not to watch our life play out on screen. There are things that happened in his life which I wanted people to know and understand. The movie has succeeded in doing that.
Why did you agree to casting Jayasurya who does not know football or Sathyan?
It's true that Jayan did not know football, had never played it. And he didn't even know who Sathyan was. But somewhere I had the faith that he could become Sathyan on screen. I had watched his Su Su Sudhi Vatheemkam. He is an actor who is ready to put in any amount of effort to play a character. Besides, I had confidence in Prajesh Sen's ability as a director to bring out the best in Jayasurya. I knew he would give an all out effort to make Sathyan's character come alive.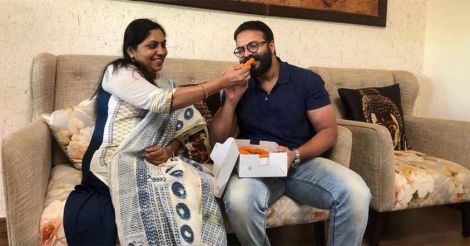 Jayasurya must have called out to Sathyan's soul with his dedication to the character. Every time he needed to be clear about something, he would send me his doubts on WhatsApp. After every make up session, he would text me pictures asking for my opinion.
How did you feel watching Anu Sithara as Anitha Sathyan?
A lot of people told me that Anu looked like me on screen. But I wouldn't know about that. I like her so much as a person and I have felt she can do mature roles. After she heard the story, she had asked to meet me. She came home and talked for a long time. I could see her watching me. After she got comfortable with me she asked about the changes she can bring to her mannerisms while playing my character. I felt that there were similarities in our body language and told her not to consciously change anything. All I said was maybe she could have a long plait and leave it at that. Anu was able to bring a lot of me into the character.
Anu Sithara the actor broke down when she was shooting for the scene where she finds her husband's suicide note. Can you tell us what it was like in real life?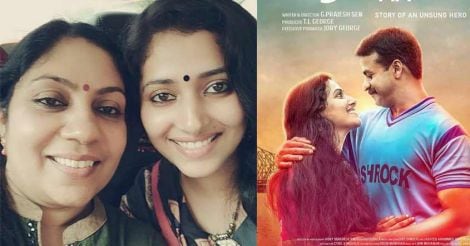 Sathyan used to write me notes. All of them were about how I should stay strong in future. He had suicidal tendency. He has written four or five such notes, all of them during those depressive and suicidal phases. But the notes almost always helped him to come out of the phase. Though the movie shows Anu finding the suicide note, it came to me much later in real life. I had cried so much, I don't know how else I could have reacted. When he died, he had that note in his pocket.
Did you have to go and buy him a bottle of liquor as shown in the movie?
What is shown in the movie is a variation on what happened in real life. There was period in his life when he was addicted to drinking. When he had to be hospitalised during that phase, he said he just wouldn't be able to get on without it. So I went with him to the liquor shop before getting admitted to the hospital. The autorickshaw driver who took us there had asked me why I was still living with him. I didn't go alone, like Anu does in the movie.
Friends knew very little about what was really happening in our life. He did not want to admit that to anyone, he was too proud for that. So I kept a lot of things to myself. The movie bared a lot of truths, people tell me they were touched.
Do you think the movie was successful in clearing the speculations about Sathyan's death?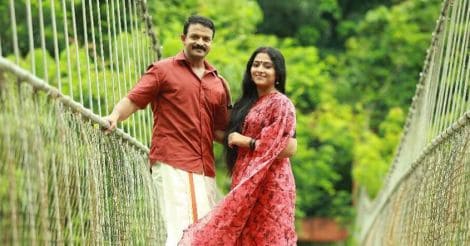 There was a barrage of speculations surrounding his death. There were stories about how he was steeped in debt. There were stories about me too. But I know something for sure. Sathayan can never commit suicide. Yes, he had shown suicidal tendency. But he could never leave me and go. What happened on that fateful day was an accident, not suicide. I had insisted on seeing his body after I was told about his death. There was a small injury behind his head, but no other wounds anywhere on his body. His body didn't look like that of person who had thrown himself in front of a train. His shoes were still intact. I had seen this for myself.
I was pained by rumours that he killed himself because of financial troubles. He died at 11 in the morning. Do you think a person who wants to commit suicide will go to the station at that time of the day and then jump off the platform? The rain would be slowing down when entering a station, you might not die even if you want to.
Times have changed, but cricket is still favoured over football in India. Your thoughts?
Yes, the attitude towards other sports in our country has continued to be the same. Sathyan was a victim of this neglect. Once, when he wanted to visit a cricket star at his hotel, the staff didn't allow him inside though he told them that he's the captain of the Indian team. Football is not given its due in our country. One of the goals behind this movie is to bring a change in this attitude. Sathyan's name was recommended for Arjuna Award. But during the last round of discussions, he was eliminated.
Mammootty has done a cameo in the movie. Did he call you after watching the movie?
Mammootty has seen me with Sathyan at the airport. That episode is recreated in the movie. Only, I didn't have a book or a paper to get his autograph. Prajesh just made my wish come true in the movie. It still remains a dream to meet him someday and get an autograph.