Chumaduthangi Kavala near Spencer Junction in Thiruvananthapuram witnesses a music performance by three budding artists from University College. After the program, hundreds of people who gathered around applaud them. All the money collected on the day is handed over to the Regional Cancer Centre. This was the first show of the Chumaduthangi (load-bearer) band consisting of Jishnu R Varma, Safeer V Jabbar and Akshay Gireesh. They were later joined by Sangeeth Vijayan.
November 1, 2016: They make their official debut at Technopark in Thiruvananthapuram after announcing their band's launch through a private FM Radio.
Now, it is more than a year since they became a band and called themselves 'Chumaduthangi' - a musical group for charity. Till now, they have conducted 75 shows and their journey still continues.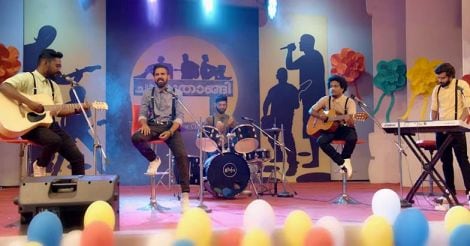 Band members and instruments
Jishnu R Varma who hails from the capital city is one of the percussionists of the band. He plays the Cajon, an instument on which the player also sits. The other percussionist in the band is his buddy from school days Akshay Girish who play the egg shakers. The vocalist and guitarist is Safeer V Jabbar from Thodupuzha and Sangeeth from Malappuram also handles vocals. They also use unique musical instruments like ukulele and djembe.
"Except Jishnu, none of the band members are trained in music. He has won many awards in (percussion instruments) tabla and mrithangam," says Safeer. The others betrayed their inexperience by learning from Google and Youtube.
Music for charity
The idea of charity has been with them from the beginning. It is seeing and hearing from people facing hard times that brought on the idea. Thirty percent of the proceeds from every show would be kept for charity. Sometimes, all the proceeds go to charity if the situation warrants. The Chumaduthangi band have founded 'CO2' or 'Care Others Too' as a youth-based NGO for skill development. They also offer free food parcels at the General Hospital, palliative care centres and orphanages.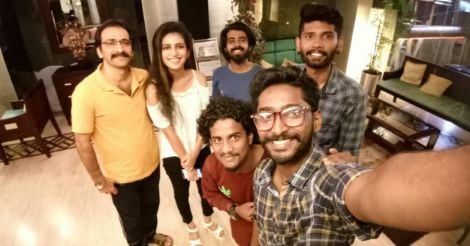 Chumaduthangi band members with Priya Varrier
"It is not planned charity all the time. Sometimes we would get an emergency call from a hospital and we rush there with whatever funds we have," says Safeer.
Music genre
Unlike many musical bands who concentrate on a particular genre, the Chumaduthangi band focuses on versatility. They do varieties of genre like regional, metal, rap, melody etc. They have also composed background scores for short films.
Breakthrough to Oru Adaar Love
"Once we sang the 'Manikya Malaraya' song during director Omar Lulu's brother-in-laws' wedding and also posted a 'Cheriya Perunal' wishes video on Facebook singing the same song. One day Omar ikka called us and said he was impressed and welcomed us to be a part of his upcoming film Oru Adaar Love. Thus we along with our friend Jubair Muhammed (playback singer) featured in the song," Safeer recollects. The song was slightly tweaked by music composer Shaan Rahman and playback singer Vineeth Sreenivasan to make it more magical.
The controversy
The 'Manikya Malaraya' song featuring Priya Varrier went viral on social media with over 47 million views. The song featuring a winking Priya is a Mapila Pattu, a genre of poetry traditionally associated with the Muslims of North Kerala. The song courted controversy when a group of Muslims filed a complaint with the Hyderabad police, accusing the film's director Omar Lulu and its actors of hurting their religious sentiments. "Actually there was no need to create a huge controversy. The director had his own vision and his hard work paid off. There is always somebody finding fault and its better to avoid them" the Chumaduthangis reacted.