Samuel Abiola Robinson is the latest superstar in a land which idolises football players. The Nigerian who essayed the title role in Zakaria Muhammed's 'Sudani From Nigeria' has made himself a household name in Kerala.
The actor, nicknamed 'Sudu' in Kerala, in conversation with Onmanorama.
The Malayali audience would love to know more about their dear 'Sudu'
I am from Nigeria. You might think I am a professional footballer. I am not. Of course I love football like all of you. I have played the game a couple of time when I was a boy. I am featured as a football star in the movie. So I had spent some time learning the game and playing more systematically. Now I have a clear idea about the game like a football player.
My area is acting. I am a professional actor in Nigeria. I am very happy to come to Kerala and act in a Malayalam movie.
How did you become part of the project?
That is an interesting story. The makers of the movie had held auditions in Ghana, Congo and among some African-Americans. Unfortunately for them, they could not find an actor who suited the character.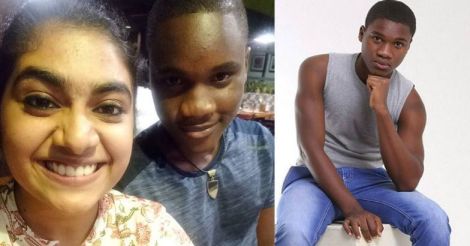 Meanwhile, director Zakaria had been googling Nigerian actors. He was reading up on Nigerian actors when he came across an article on me. He e-mailed and phoned me. I was sceptical when he told me about the movie. I thought someone was pulling a prank on me. Only when he said that the team would bear the cost of my visa and air tickets, I realised it was a genuine offer.
About the chemistry between 'Sudu' and 'Manager Majeed'?
Soubin (Shahir) is very talented and loving. 'Sudu' and 'Majeed' have a cordial relation in the movie. Like in any cordial relation, they have their moments of disagreements and disputes. Majeed always love and care for Sudu.
Soubin is a dear friend. He used to catch me off guard on the set. He would refresh the entire team with his jokes when prolonged shooting sessions turned exhaustive. He is a great actor. You would see the depth and extent of his acting skills in this movie. He has a great humour sense but it is wrong to think he can only handle comedy. He should not be confined as a comedian. I am happy and proud that this movie could tap his full potential. This movie has comedy and drama. This is a family entertainer for everyone.
About the director and co-stars
Zakaria is a talented director. He is the most energetic director I have worked with. He was patient through the making of the movie. He explained every scene and every dialogue at great length before shooting. He was very clear on his expectations from the actors in each situation. He shared a vibe with all actors. He never had any air about being in control.
I can never forget the women who acted as 'Sudu's mothers. They always cared for me. They would always ask if I had something to eat. Even outside the movie set, they were very caring. They are great actors. You would know when you saw the movie.
'Sudu' dreams of a 'better world'. What are your dreams?
I am very happy to be where I am now. I want my work to be socially relevant and bring a positive change among the people. I do not want to be rich by acting in lots of commercial movies. I think I am the first African actor to do a title role in an Indian movie. I think that is historic. I want to be a part more such movies in Malayalam. I also want to be involved with the Tamil, Telugu, Hindi and Marathi industries and get to know the country better.
In what ways can you identify with 'Sudu'?
'Sudu' comes from a very poor background. My parents never had such a situation and I have never gone through such a bad phase. Still I was affected by the recession of 2016 in Nigeria. The theater groups came to a standstill because there was no money. The economy had gone for a toss and the country faced a crisis. We were hit by its ripples.
Your character was much appreciated in Kerala.
I am at a loss for words when it comes to the love the people show to me. They are very sympathetic to me. I receive thousands of messages on social media. "We love you man, we love your movie" and messages like that. I watched the movie in Padma and the Lulu Mall in Ernakulam. The moviegoers came near me, hugged me and took selfies with me. The people in Kerala are close to my heart.
You are an avid fan of Dulquer Salmaan. He even replied to you on social media.
(Robinson laughs out loud and springs up from his seat in excitement.) I was disappointed at first. I sent him the message on Instagram and there was no response. He might have missed it amid the thousands of messages he receives every day. Then someone suggested that I should try Twitter. I did that and within 10 minutes, he replied! Oh my god! He replied to me and even followed me on Instagram and Twitter! What more can I ask for! I adore him. He is an icon of youth.
Have you watched his movies?
I was very busy from the time I came to Kerala. I have not watched a single Malayalam movie in full. Most of the movie trailers I watched were his, such as 'Charlie', 'Neelakasam, Pachakadal, Chuvanna Bhoomi', 'Kali' and 'CIA'. I have also watched trailers of Mammootty and Mohanlal movies. I liked 'Big B' and 'Pulimurugan'. I want to watch all these movies once I get a bit of free time. (Robinson delivered a famous Mammootty dialogue from 'Big B' with amazing control over the language.)
Would you want to work with Dulquer Salmaan?
I am yet to recover from the shock of his reply. I am not in a position to even think about answering that question. I want to return to Indian and work in Indian movies. I have already started learning some Indian languages.
Did you find it difficult to adjust with Malayalam and Kerala's culture?
I never experienced any cultural difficulty. I liked the people and their culture. Language had been a hurdle several times. When I went to a shop, the shop owner did not speak any English. I would speak in English and he in Malayalam! We understood nothing and just stood there smiling at each other. We still communicated to each other through gestures. That was challenging but exciting.
I did not get a chance to travel through Kerala. I watched a seven-a-side football match in Malappuram. That was an unforgettable experience.
On Kerala cuisine?
My favourite is porotta and chicken curry. I also liked pathiri, appam, dosa and pazham pori.
I am really going to miss Kerala and the people here.
(Robinson is at the end of his sojourn in Kerala. He is about to go back to Nigeria after the movie's release and promotion.)