Ever wondered how Anurag Kashyap, the ace Bollywood director, enjoys superhit Malayalam movies like Angamaly Diaries or Kammattipadam and shower praises for these films on his social media pages.
Apart from the incredible craft of fillmakers Lijo Jose Pellissery or Rajiv Ravi, amazing subtitles that accompany these movies too play a significant role in making Malayalam cinema popular among the non-Malayali audience. With 75 movies to his credit, that too within just three years, Vivek Ranjith, hailing from Kochi, is already a veteran in subtitling. Vivek talks about the role of subtitles in giving an international appeal to the regional cinema and also about the challenges in this unique field.
With the latest release BTech, you have crossed 75 films in your career. What are the major shifts that have taken place in this field?
When I came into this field, subtitles were given for only a handful of movies, that too when the individual films were submitted for film festivals or awards. But this trend has changed significantly and I have done the subtitles of about 36 movies last year. This year I have completed 16 movies so Kunjiramayanam was one of the first movies which hit the screens with my subtitles. When that movie got released, I was in Bangalore. I realised from the responses of the audience at the theatre that the subtitles played a crucial role in conveying the plot and theme of the movie without losing its emotional content and originality. I then tried to make the directors and producers realise the scope of releasing their movies with subtitles. Most of them were open to the idea and their responses were overwhelming.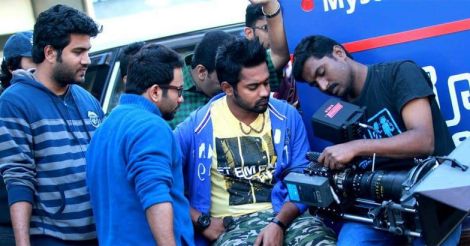 Vivek with Asif Ali and Aju Varghese on the sets of the movie 'Kili Poyi'
Malayalam cinema enjoys an impressive popularity outside Kerala especially since the success of movies like Bangalore Days and Drishyam. Mollywood's young actors like Dulquer Salmaan, Nivin Pauly and Fahadh Faasil have an amazing fan following across South India, especially in Tamil and Telugu. The reason why these actors are offered good roles in other languages owes to the fact that they enjoy immense popularity among the audience there. Their popularity outside Mollywood has prompted directors and producers to release their movies with subtitles. In the past, one had to wait for a long time after the theatrical release of a movie, until its DVDs are out, to watch a movie with the assistance of subtitles. In the Gulf countries, where Malayalam cinema has the most number of overseas audiences, the movies have to be re-censored after giving subtitles in English and Arabic. Earlier Malayalam movies were released in the Gulf only two or three months after its original release in Kerala. But now the movies are released in the Gulf within two to three weeks itself.
A huge audience for Malayalam movies exist just because they have subtitles in English. A number of film makers outside Kerala, especially those in the Tamil and Hindi industries, keenly observe and follow Malayalam cinema. They are able to enjoy our movies only because the films have subtitles. I feel extremely happy when Hindi film makers tweet about Malayalam movies. Even though my name is not mentioned in their tweets, I personally consider it as recognition. The subtitling of Solo was done at Mani Ratnam sir's studio, and he had already watched Charlie and Thondimuthalum Driksakshiyum. Earlier, the name of the person who writes the subtitles was not mentioned. But now, their names are shown in the title cards itself, which I believe is an amazing change. I feel happy that the subtitlists too are honoured along with other technicians, when the films has 100 days of celebration.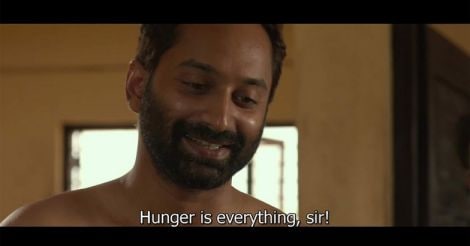 A still from the movie 'Thondimuthalum Driksakshiyum'
Don't you feel that the Malayalam cinema is not promoted globally?
Malayalam cinema definitely has a global potential. Apart from those movies which are shown at the film festivals, our cinema has much less foreign audience. Only expatriate Malayalis turn up to watch our movies in the Gulf. In India, the audience for Malayalam movies includes both Malayalis and others. Tamil movies are released in China and Japan. Similarly, Malayalam movies should also be released in those countries. Malayalam cinema definitely possesses the quality and standard to be received internationally. Our movies are local, and at the same time have a universal appeal. The extraordinary technical qualities, directorial brilliance and fine craft of Malayalam cinema definitely give any foreign language movie a run for their money.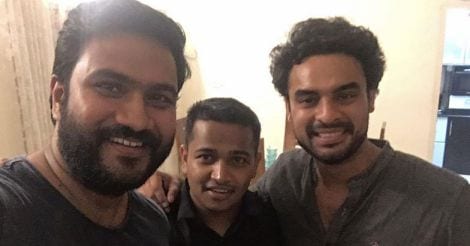 Vivek with director Basil Joseph and actor Tovino
What are your priorities when you give subtitles for a movie?
The most significant point to be kept in mind when you are doing the subtitles is that the movie is not a space to flaunt your skills in the English language. The success of a subtitlist lies not in including difficult words or complex jargons, but to enable the movie communicate with the audience using simple language. A subtitle has many limitations; ideas should be communicated within minutes. So I always try to communicate using minimum words. I make sure that there are no grammatical mistakes in the subtitles. Errors in spelling or typos can be rectified using software. I usually adopt different writing style for each movie as per the nature of it.
Doesn't a comedic scene or a local slang lose its originality when it is translated?
It indeed is a bit arduous to convey a comedic scene or a local slang without losing its originality or distinctive quality. But what I find particularly challenging is translating the lyrics of the songs. It is very difficult to recreate some of the most beautiful lines written in Malayalam. In fact my mother helps me in translating many of the songs. I try to find idioms and popular sayings in other languages which may deliver the same meaning as a Malayalam comedy or slang, and also include usages which connect clearly with the people of a particular area. For instance, when a popular movie villain like 'Kolappulli Appan' is referred to in a movie, he can be replaced by 'Gabbar Singh', a villain known to the whole country. In the recent past the two movies which I found extremely difficult to write the subtitles were for Poomaram and Kammara Sambhavam. In Kammara Sambhavam, the language has to maintain a serious tone and at the same time give importance to spoof.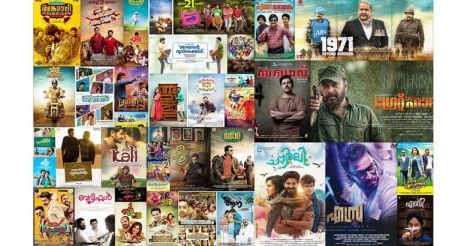 With 75 movies to his credit, within just three years, Vivek Ranjith is already a veteran in subtitling
Do you have any role models in subtitling?
I never had any role models in this field. My biggest strength is the experiences that I gain from every movie. I didn't even hire anybody to assist me in writing the subtitles. I have had the opportunity to prepare subtitles for some of the most talented filmmakers. The distinctive making style of each filmmaker is really inspiring for me. These movies have also helped me hone my skills as a writer. Some directors would completely trust me and use the subtitles that I have made even without reading it. Directors like Lijo Jose Pellisery, Vineeth Sreenivasan, Syam Pushkaran and Murali Gopi would spend some time to read the subtitles and often suggest some creative changes.
Do people realise the importance of subtitles?
It is in Chennai that theatres screen subtitled movies frequently, especially Sathyam theatre, which show movies by giving prominence for subtitles. In North India, theatres show a laxity in downloading the subtitles and screening it along with the films. Often subtitled versions are shown after continuous calls are made to them. I wish the subtitled version of a movie was screened in Kerala, at least, for one show per week. This formula has been tested successfully in Chennai. There are hundreds of migrant workers who stay in Kerala, and I am sure that this formula will help to motivate them to enjoy Malayalam movies as well. If subtitled version is screened every day at theatres, then it will be insipid for the Malayali audience. But it would be really helpful for the industry if a subtitled version is screened for one show per week. Unfortunately, the post-production works like editing and mixing of 80% of Malayalam movies are completed only a day before the release. I have even made subtitles for movies within just one or two days; but I think it would be ideal if a subtitlist gets at least two weeks to write the subtitle.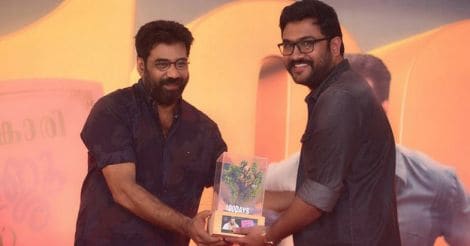 Vivek receiving a memento for subtitling 'Rakshadhikari Baiju Oppu' from Baiju Menon. Photo: Facebook
Don't you think certain experimental movies by a group of directors have helped in making Malayalam cinema more acceptable and popular?
Obviously, the movies which featured uniqueness in its theme and portrayal have significantly catapulted Malayalam cinema to greater heights. Malayalam filmmakers are able to create extraordinary movies using ordinary themes. Malayalam movies are available with subtitles in various digital and online platforms like Netflix, Sun NXT and Hotstar. Hotstar has a special team to prepare subtitles for the movies. They only use the subtitles done by their team. I feel a little dejected when my name appears on the title card and someone else's subtitles are shown. However I am really glad that cinema is reaching to more people these days.
Are you thrilled that the movies reach you before they are actually released in the theatres?
In fact, my excitement gets diminished as the movie reaches me sans any special effects or background score. Another major limitation is that I watch the movies on a laptop screen. As part of my job, I have to watch a movie at least 15 times before it reaches the theatres. In some cases I do feel that I am missing out on the real theatrical experience.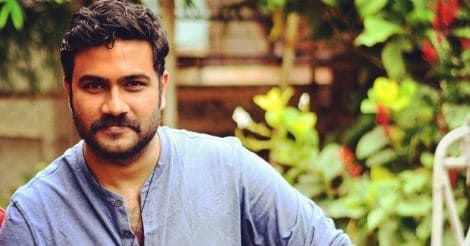 Vivek Ranjith, who secured a diploma in screenwriting from the Film and Television Institute in Pune, is a co-writer of Asif Ali-starrer 'Kili Poyi'. He plans to pen screenplays for one or two more movies before turning to direction. Vivek is currently busy preparing the subtitles of the forthcoming VK Prakash directorial 'Praana'.