He is a hero. Not because he thrashes the villain or fights fifty odd thugs surrounding him. But the new achayan in town, Thoppil Joppan, has nailed it. The typical achayan is not a mass hero, but is someone who we all would love to meet.
The movie directed by Johny Antony opens with a narrative, where we see Joppan's friends in all praise for him. Joppan is the kabaddi captain of Thopramkudy. And yes, the hero needs a love and cupid descends just in the beginning itself. Annie, played by Andrea Jeremiah is Joppan's love. As a desperate teenage hero Joppan wants to capture her heart, but it's all in vain until Dinkan, the Balamangalam hero saves Joppan. Well, let me not break the suspense. Joppan and Annie are in love, but as all love stories, it's cliched. Joppan is thrown outside his home by his strict father. Now that Joppan has to make some fortune for the future, he asks Annie to wait for his return and leaves the place.
Well, then we come to the real story and see what charm does Joppan's return hold in store for us. Now 'aristocrat', a typical achayan, Joppan returns in a brand new luxurious car with a baggage full of 'fresh notes'. He has all that he needs, but Annie!
Now Joppan is the ultimate savior for a bunch of his friends when they are close to defeat in a coveted kabaddi match. Here you enjoy a sporty Joppan, but yes, with loads of scope for fun and laughter. The typical Kottayam achayan dressed in white mudu and kurta and spotting a black cooling glass, a Joppan shaking a leg provides for a glimpse of the trademark Mammootty nuances.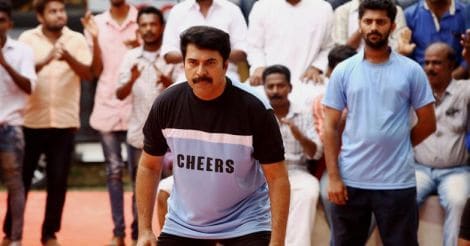 The 50 per cent alcohol in the tag line comes into play here and Joppan and his cronies celebrate every other day. 'Forget Annie' is their slogan. The story goes for a spin when Mariya played by Mamta Mohandas, a cheerful bubbly girl walks under Joppan's umbrella one fine rainy day! The ditched lover in Joppan gets regaled again. But script writer Nishad Koya doesn't leave her to Joppan so easily.
A 50 per cent alcoholic Joppan is sent to the rehab center, where some new twists await him - a fight, a lost love, and what more. Salim Kumar as Fr Issac Valamparambil, the tough priest has made a great come back. His walks into the screen saying, ''kaanan oru look illenne ullu, bhayankara budhiya'', making the crowd burst into laughter. Pulling out characters from previous hits like Inspector Balram, Chathiyan Chanthu, Sagar Alias Jacky, among others creates some genuine humor in the movie. Comedy with no tinge of vulgarity is a credit worth mentioning.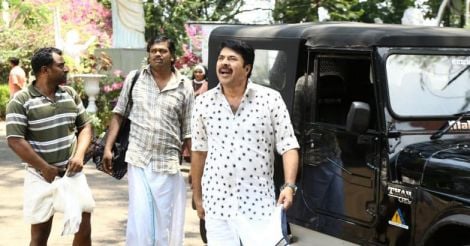 Most of the fun in the movie spurs from Joppan's timely dialogues with his friends essayed by Sreejith Ravi, Alancier lay, Sohan Seenulal and Saju Navodaya. Director Jude Antony's role as Thomas Kutty is surprisingly funny. Harishree Ashokan and Renji Panicker also did their part well. The female characters in the movie have nothing great to establish but of of course grace the screen with their presence. Mamta Mohandas has to her credit a romantic dance number drenched in rain. Kaviyoor Ponnamma, as Joppan's Mother is undoubtedly fine. Reshmi Bobban playing Joppan's sister essays her role convincingly.
Vidyasagar has come up again with a bunch of good songs. Poovithalai, is a melodies track in two versions - by K.S. Chitra and Abhirami Ajai. The song Manamilla is a song on death in comic light. Chil chinchilamay will leave you mesmerized as Swetha Mohan is at her best once again.
Also read: Thoppil Joppan music review: Vidyasagar in his comfort zone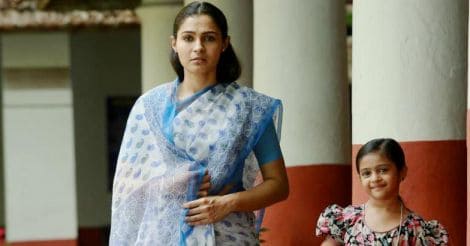 Thoppil Joppan's climax may be predictable, but there too we find ample scope for fun. If you are a Mammooty fan and feel it's time to enjoy a movie with family, Joppan welcomes you to Thopramkudy. The megastar has kept his word.
Onmanorama Rating: 3/5