Everyone loves crispy and thin dosa with a drizzle of ghee. However, many complain that the batter often sticks to the tawa and it is difficult to flip the dosa, even if you use a non-stick one. The widely used solution is to smear some oil before pouring in the batter every single time. But did you know that it is not the only solution? Here are three ways to ensure that your dosa would come off perfectly from the tawa without losing its shape.
Before following any of these, you need to ensure that your tawa is thoroughly cleaned and residue free.
Step 1
When the tawa or the pan heats up, drizzle some water on it. Now, spread some sesame oil. Pour a ladle full of batter and spread into thin crepes. The batter wouldn't get stuck to the tawa if you make dosa like this. Step 2
Cut an onion in half; do not peel the skin. Stick a fork on one piece. Rub the onion on the tawa before pouring the batter. This will help you cook thin and crispy dosa.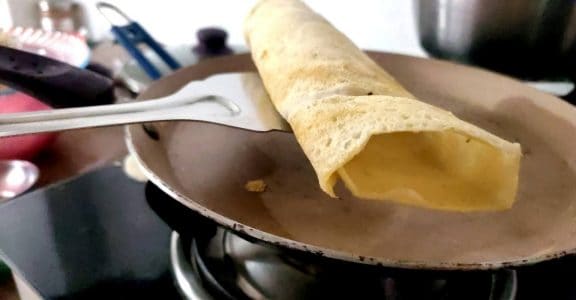 Step 3
Always sprinkle water on hot tawa before making dosa. This will regulate the heat on it and help you make perfect dosas.