A steep hill. Some youths are working with spades and shovels. They are working hard so that the soil can retain rainwater and provide water to the village. It's heartening to see new generation youth loving their land so much. After taking a handful of the fresh earth that they have dug up, one sincerely wishes them the best, to quench the thirst of Dapurmal.
A 5 km journey through the forests from Mumbai suburb Kasara will take you to Dapurmal, where tribal community Thakurs live. The lone water source of the village - a pond - has dried up completely.

People were seen waiting patiently for water to accumulate from a source the size of a small hole in the middle of the pond. When asked how long they will wait for water, they said, "The whole night".

The pond fills during monsoon and dries up by December. For the next six months, there won't be any water in the pond. From the huts, one can see the scattered neon lights from Mumbai. Though the metropolis is only a few kilometres away, it looks like as if it is far away. Until it got solar lights two years ago, the villagers only had moonlight to get around at night.

Those fortunate to get water from the pond have to cross the Middle Vaitarna dam on their trek up to their homes. The dam is full even during peak summer. But the villagers can't take even a drop from the dam. It is meant for the metropolis. The rain that falls in their hills and flows into the dam has other owners.

A few years ago, when social worker Snehal Naik and friend Mahindra Patil visited the village, the villagers asked for only one thing - Please find a way to provide us water.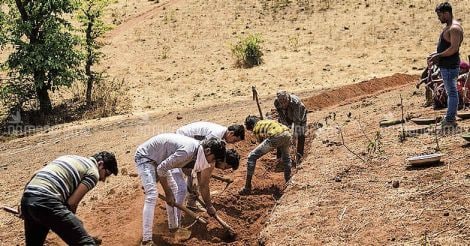 Photo: Vishnu V Nair
They decided to look at a permanent water source by boosting underground water level. First, they cleaned up the pond. To bring water into it, they are relying on continuous contour trenches technique.

Trenches are being dug along the contour lines. Water flowing down the hill will get retained by the trench, infiltrate the soil below and help fill up the pond. In a one-and-a-half-acre area, they have dug 30 trenches of 30 metre length, two feet width and one-and-a-half-foot depth.

If it rains nonstop for 10 days, 54,000 litres of water can be stored in a trench. So, they plan to store 16 lakh litres of water this monsoon and within three or four years they aim to bring a permanent solution to water scarcity in the village.

Initially, the duo didn't get much support of villagers. But, when they saw new-gen youth working on the project, they too pitched in. Now Dapurmal is waiting, waiting for the heavens to open up... and fill up the trenches and the pond.
Read more: World Environment Day