Thiruvananthapuram: A day after police arrested six people for allegedly disrespecting the national anthem at the International Film Festival of Kerala (IFFK), a group of people have staged a protest outside the Tagore theatre here against the unjust apprehensions.
The members of the group said that the police action is a threat to the democratic system in the country. "Those who believe in democracy, and think forcing nationalism on the citizens of the country is wrong should join hands together," one of the members said.
"There is no such rule in the constitution that we must stand up while singing national anthem. We're all proud Indians, but we don't have to prove that to the authorities five times a day," he said.
On Monday, six people, including three journalists and a woman hailing from different districts in Kerala, refused to stand up when national anthem was played at Nishagandhi theater before the screening of Egyptian film Clash. Police officers who were present there picked them up after some audience brought this to their notice.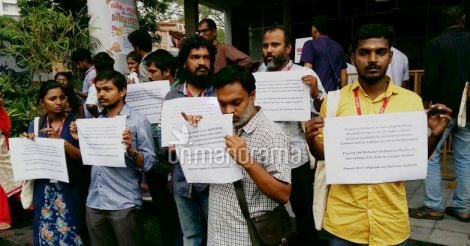 They were taken to the Museum police station where they claimed that they were not ready to leave the seats, which they had struggled to get after arriving late for the show. They were booked under section 188 r/w of IPC for disobedience to the order duly promulgated by the public servant and were released on personal bonds.
Later on the same day, five more people were arrested by the city police on the same charges from the IFFK venue.
The Supreme Court had recently ordered that cinema halls in the country should play the national anthem before screening movies and the citizens barring people with disabilities should stand up for the anthem.