Engineering in its truest sense is innovation personified. Everything that we see around us is an example of engineering. So, how creative is the world of computer science engineering? Meet seven young gentlemen whose desire to be creative and generous led them to becoming one of the most sought after entrepreneurs in recent times.
From engineering to business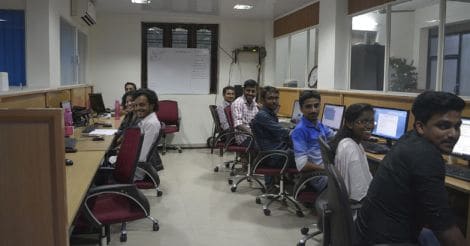 Team Livares at work
No. Their families do not run huge business enterprises. But Aneez and his friends knew that there was a lot to be explored. Upon completing their graduation in Computer Science Engineer from a college in Thiruvananthapuram, Aneez and his friends began working in reputed firms, grasping the nuances of the industry. It was not long before they decided to quit their jobs and run their own venture. The initial capital of Rs. 2.5 lakh for the business was contributed by the directors themselves.
The team had rented a small house to commence operations. Soon, their firm was incubated under the Technopark Incubation programme. Thus, Livares had come into existence in 2012 with not more than seven employees. Today, nearly 3 years since its inception, Livares has over 20 employees working for them. Livares has also sought financial assistance from the Kerala Finance Corporation for expansion purposes. The firm is also virtually incubated by the Startup Village in Kochi. As a matter of fact, it is one of the top 10,000 startups shortlisted by NASSCOM in 2014.
Livares – finding solutions to problems
Video of an Android mobile controlled wireless rover. This is the user-interface controlled version of the device.
Livares offers a variety of online services. These including the creation of websites, mobile applications, gadgets, etc. Team Livares worked towards a steady and focussed plan. They had done the needful to establish a small clientèle in the initial months of its establishment. A few mobile applications were launched by the team as well. These innovations had become part of the firm's portfolio. Within a period of eight months, Livares were part of the many stream market for online solutions.
The app called M-Governance, the official app of the Kerala government, was developed by this team. The app had also won the Vodafone AppStar Award for the year 2014. "This app was developed with the support of the IT Commission of Kerala. We wanted to simplify the way in which one could access various government services via the mobile phone," said Aneez Ahmed, CEO, Livares Technologies Pvt Ltd. He added that when the company had commenced operations, they wanted their innovations to help the society in many ways. Thus, they always believed in solving a problem as opposed to creating a whole new arena of technololgy.
Marketing themselves
Livares resorts to a variety of marketing strategies. Apart from social media and creation of its internet portal, they also conduct events so as to create a certain degree of awareness about the firm and the world of startup enterprises.
The core team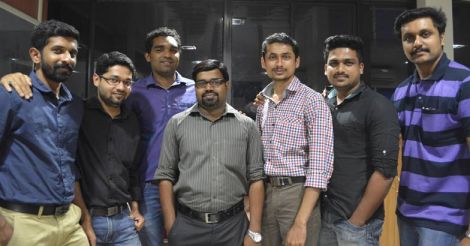 (Left to Right) Sumesh Nair, Aneez Ahmed, Jaseel Abdul Rafeek, Aneesh Chandran, Rineez Ahmed, Shihas AS, Mahesh Koyikkal
Aneez Ahmed N, Chief Executive Officer
Aneesh Chandran, Chief Operating Officer
Rineez Ahmed N, Chief Technical Officer
Mahesh K M, Chief Marketing Officer/ Business Development Manager
Jaseel A R, Chief Innovation Officer/ Manager- Online Promotions
Sumesh R Nair, Client Relations Officer/ HR Operations Manager
Shihas A S, Product Architect / Manager Quality Assurance
Startups and the Startup Village experience
When asked about their take on running their own enterprise, Aneez said, "Since none of us hail from business backgrounds, we had to strive hard towards convincing them of our venture. Startups are a new avenue. Nobody knows if they will ever take off or not. It is never easy to build a brand and an identity. What is most crucial is know which domain you should experiment with. The levels of competition in our case is high. That is why had to narrow down to a specific domain which will give us ample opportunity to grow."
Video demonstrating the working of a robotic arm. This was developed by Livares Technologies Pvt Ltd.
He also mentioned that the Startup Village has been instrumental in propagating the concept of startup enterprises. "This has helped us in terms of financial support from angel investors etc," Aneez explained.
All is well
At present the firm is working on a Fingerprint identification systems which is likely to enhance the security systems of the Kerala Police. "The education is good, but the way in which the subject is taught is not upto the mark. At the moment, we are happy. We did struggle a lot and when we failed, we had changed our way. Now we are confident and have no regrets of doing what we do best," elaborated Aneez.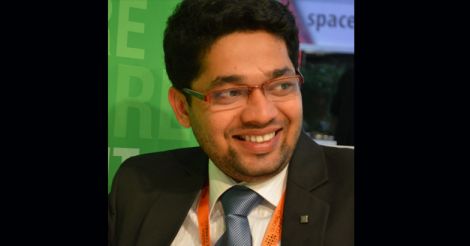 "We cannot compromise on quality nor our level of professionalism," said Aneez Ahmed, CEO, Livares Technologies Pvt Ltd.
Aneez believes that one must never be in haste to invest in a firm. It is important to plan and probably refine it till one is convinced of it. A firm, according to him, has to abide by certain procedures even if it is in its formative stages. "We cannot compromise on quality nor our level of professionalism," said Aneez.
So, will they encourage others to be their own bosses? "We will definitely guide those who want to start their own companies," answered Aneez.