It is time to recollect those precious memories of re-visiting your ancestral homes during the summer holidays. While you might be all geared up and cheery about the spending time with your cousins, your parents were undoubtedly stressed out. No, it was not the journey, but the mere thought of having to fix taps, trim the lawn or even mop the dusty floors that left them dismayed. Not to mention the pain-staking efforts of contacting every plumber or electrician in the town or numerous calls made to relatives so as to seek help.
Imagine this. A single point of contact for all your maintenance needs. A group that can help you make your holidays more memorable than tiresome. Well, meet Team Renoveed. The firm is run by Matthews George and his cousin Jacob Thomas. Matthews has over 20 years of experience in the area of sales while Jacob is an engineer, who later on went on pursue his MBA. The firm is based out of Pulled, situated in Kerala's Pathanamthitta district. Although they are only two months into their establishment, the services appear to gaining a lot of momentum.
What triggered the idea?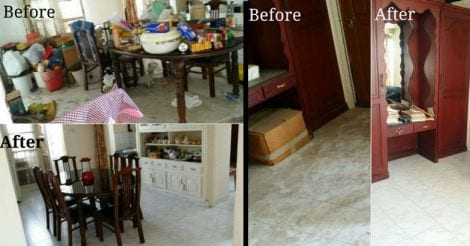 Jacob Thomas and his parents, currently reside in Madhya Pradesh. The family, originally, hails from Pulled. During his childhood Jacob and his family would spend several days at their ancestral home. "They were welcomed by knee-high weed, fungi-filled tanks, leakages, and dirt. This meant we had to either bother an aunt of ours or spend the first three days chasing electricians, plumbers, and gardeners. It was never easy. This got us thinking. Soon my cousin Jacob and I decided to resolve the issue," said Matthews.
He also added that such services are not unknown to those who have settled abroad. "Then again, they are excited that this is finally happening in Kerala as well," he commented.
The process
Renoveed strives to assuring their customers of quality Annual Maintenance Contract (AMC) services. The services would include plumbing, electric repairs, as well as state-of-the-art cleansing techniques. The firm also offers customised consumer packages as well. These packages are charged at Rs. 20,000. In case the customer doesn't opt for the package, the cost of the service is based on the work the required. Renoveed has established tie-ups with specialists in different areas and have also hired contract employees to work for them.
Are the services safe and reliable?
Renoveed works with certified professionals and are confident about their services. A manager is assigned to the place of work so as to monitor the work being done. Both Jacob and Mathews have also said that their firm is willing to redo the work absolutely free of charge in case a problem occurs within 7 days of their service.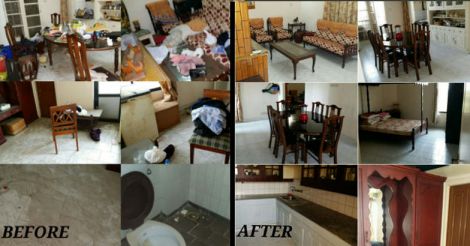 Renoveed strives to provide quality AMC service. Photo: Renoveed
John Thomas, an Ex-NRI who currently resides in Ernakulam, said that he is completely satisfied with the work that Renoveed has done. "I have an apartment in Kakkanad. Not too long ago, I had sought the help of a firm based out of Bengaluru to help me clean my house as well to look into the repair-work around the house. They had charged me Rs. 30,000. Whereas, Renoveed's services cost me Rs. 15,000. I would say their services are reasonable and professional. Then again, in comparison to the services offered abroad, the firm still have a lot to learn. But I am sure they will be as good as they are," said John Thomas.
WOM has taken them so far
At present, Renoveed offers their services across four districts namely – Pathanamthitta, Kollam, Alapuzzha and Ernakulam. Word of Mouth (WOM) seems to have been most effective marketing strategy. "However, we would soon reach out to customers via various initiatives such as mailer campaigns, Search Engine Marketing (SEM), taxi operator referrals as well as social media," Matthews explains. A large section Renoveed's clientale consists of friends and family. The firm will soon expand their operations to other states as well.