Thiruvananthapuram: The Kerala government on Wednesday announced the decision to hike bus fares, effective March 1. A cabinet meeting on Wednesday decided to raise the minimum fare for ordinary, city and fast services from Rs 7 to 8. The minimum fare for fast passenger services will be Rs 11, up from Rs 10.
According to the cabinet decision, the per kilometer charge for ordinary services will be 70 paise from the current 64 paise. For executive and super express services, the minimum charge will go up to Rs 22 from the current Rs 20. For super deluxe, this will be Rs 30; hi-tech luxury AC, Rs 44; and AC Volvo, Rs 45 from the current Rs 40.
However, the government has not revised the concessional fares for students despite facing strong pressure from bus operators to withdraw it.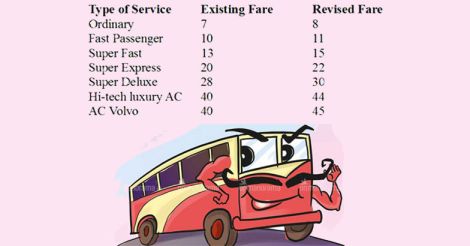 An emergency meeting of the ruling LDF had given the nod to raise the fare on Tuesday. Kerala had last revised the fares in 2014.
The Justice C Ramachandran panel had recommended raising the minimum charge from Rs 7 to Rs 8. However, bus operators had demanded a minimum charge of Rs 10.
The private bus owners of Kerala, and KSRTC have been demanding the fare hike for the last two years. The two organizations of the private bus operators in Kerala in the past have staged several token strikes and have recently announced an indefinite strike unless the fares were not increased.
Private bus operators have demanded a minimum fare of Rs 10, but the government has not conceded to this. Meanwhile, bus operators expressed dissatisfaction over the quantum of hike. They said the minimum charge should be Rs 10 and the concession fares for students should also be revised. They also said they might think to go on with the agitations against the government.
Read more: Latest Kerala news | 'Your days are numbered': video of CPM workers' hate march against Shuhaib out