Leyland Guru lives up to its name. The truck line is revered for its simplicity and quality. The brand launched in Kerala ahead of Onam has three products, with load body lengths at 17, 20 and 22 feet. Able to carry up to 13.1 tons of load, these trucks cover a range of jobs for wholesale merchants and parcel services alike. There are more versions on the anvil.
Guru is the first commercial truck to run on three cylinders, at a time when even small carriers boast of four cylinders. The Guru series is technologically confident. The Japanese technology-powered H series engine is able to generate 115 hp and 320 Nm torque that can lead to 1500 RPM. Future trucks in India will bow before the master.
Bold and beautiful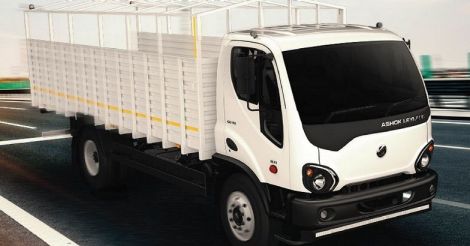 Ashok Leyland Guru
Trucks are rarely praised for their figure yet Guru gives it a shot. Guru is a 'Make in India' answer to the foreign truck manufacturers getting more than a foothold in the country. The desi brand does not come with a prohibitive price tag and high cost like the imported ones.
Gone are the days when trucks were a sham job full of rotten wood and rusted metals. Trucks are as much elegant as any class of vehicles. Leyland and Tata have grown up to the brave new world of beautiful high-performing vehicles. Guru is a coming-of-age declaration for the Indian truck-making industry. Don't even let us start on endurance. We are talking about a Leyland here.
Posh interiors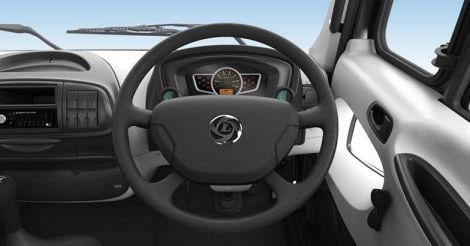 Ashok Leyland Guru
Get a selfie from the driver seat and you can claim to be inside a premium car. Guru offers its driver a decent space to stretch, a first in a daytime cabin in India. The driver can also adjust the seat and the steering wheel as in a car. The power brake is effortlessly simple. The single-glass windshield assures better vision.
Guru comes with 10 percent more mileage than the other vehicles in the category. Guru will save about Rs 1 lakh for every 300 kilometers on the road. The profits are higher as the leaner truck can carry 120 kg more load in every trip. The excellent shocks and effortless cruise make the truck a driver's favorite.
Guru is reliable. The trusted Leyland imprint is visible in every factor. You would not need to worry about frequent maintenance. Guru is 10 percent less likely to go to a body shop than its peers. You don't have to worry about a service until you drive it for 40,000 kilometers, the best in class.
Test drive: TVS, phone: 8000921029.
Read: Latest Auto news | Meet the new challenger on road: Duke 250