The rear derailleur hanger – a tiny piece of metal from which the derailleur of a bicycle hangs – is a life-saving device for frames.
The derailleur hanger or gear mech hanger is part of the dropout the rear derailleur attaches to, and 99 per cent of modern bikes have it.
The idea is if the rear mech fails the dropout will break off and save the frame. The dropout is easily and cheaply replaceable, the frame is not.
But finding a replacement for the hanger is not easy in India and this often paralyses multi-gear bikes suffering a rear mech failure for long periods.
Most bike stores do not stock this tiny piece. We can't expect them to, either. The hanger might differ from bike to bike and brand to brand. This means, if a store stocks four models of a brand, it might have to also keep four different derailleur hangers and if the store stocks four different brands, it might have to keep 16 different pieces.
While researching for this column, I found one manufacturer listing 260 different types, another 450, while still another 650. The hangers are bolted to frame dropouts and these bolts are different for various hangers. This further complicates the situation. A bolt lost/damaged is further time wasted.
Given this reality, it is understandable that stores order a hanger when the need arises.
Mech hangers are a sacrificial part designed to bend or break under duress to minimize or prevent damage to frame.
A bent/broken rear mech hanger is an expense and a pain, but very minor compared to the cost of repairing/replacing a frame and/or damaged drivetrain components.
Crashes, poor gear shifts, climbing or starting in the wrong gear can place drivetrain components, such as chain, rear derailleur and crank, under massive stress and bend/break the hanger.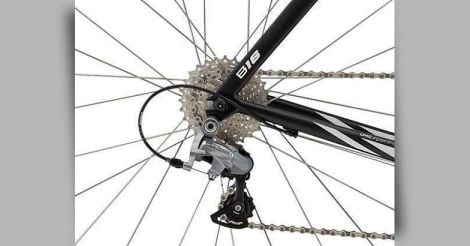 Poor maintenance, incorrectly fitted or worn chains, debris caught up in links, a chain that is too long or short for the crank, not setting limit screws and having incorrectly indexed gears can put the gear hanger under stress.
Some hangers such as CC007 fit an enormous number of different manufacturer frames and multiple frame years. Some models are, however, specific to a manufacturer and year, meaning a manufacturer could change hangers each year for the same frame.
The hangers are usually made of an alloy (6061, T651 aluminum), a relatively soft material, cast, stamped, cold forged or CNC machined.
In this situation, the onus is on brands operating in the country or their importers.
Importers should stock derailleur hangers for all the bikes they import but most do not and riders suffer!
It is time for a change.
(The author is a bicyclist by choice who uses the bicycle for everyday commute, distance riding and conducts professional workshops on bicycling and bicycles)