Are you an enterprising person unhappy with the daily run to the office and the monotonous work awaiting there?
Are you among those who can't manage with the current salary, but unable to quit the job because there aren't other options?
Are you a person who wants to share the financial burden of your partner, but can't because of household chores that keep you at home?
Are you one of those housewives who wants to juggle between a flexible job and a home?
Are you among those lakhs of educated youth looking for a job?
Of course, many of us fall into one or more of these categories. But in the time of the Internet and the endless possibilities the world wide web offers, there is no need to be disheartened.
Also read part II of this series  
It's time to dust out the entrepreneur in you.
With a little preparation and almost no financial investment, you could make money sitting at home, using the Internet as a platform to do business. The capital needed to do online business is confidence and energy, and a readiness to update yourself constantly and adapt to changes.
Traditional marketing strategies may not work. Quick response is crucial. Understand what the consumer wants and be ready with it when she wants it.
Possibilities enormous
Opportunities are abundant online; you have to choose what suits you.
The Internet offers a massive platform on which you can sell anything, anywhere at any time. There is no discrimination against those who want to do it.
Those who are already in business, those looking for self-employment, homemakers and students — anyone is welcome. You may work from home, while travelling or practically from anywhere, as long as you have access to a computer and the Internet.
Do it full time, part time, or at your convenience.
Of course, there are risks, like any other business. There may be a thousand ways to make money on the Internet, but one needs to chose them carefully.
There will be minefields all around, be wary of those. Many have lost money trying to do online business.
Those who have done well in the field attribute their success to patience and their willingness to work hard. There are no overnight success stories.
Also read part III of the series: Wanna mint Rs 60K from your drawing room? Take a shot

Tough competition
Competition is probably the stiffest online than any other marketplace.
The advantage, that a seller can offer his product or service anywhere in the world at any time, is also a disadvantage — a competitor, too, can emerge from anywhere.
Differentiate yourself from the rest, that is one way to survive competition and become successful. Ensure the quality and reliability of whatever you offer online.
Innovation and response
Novelty is key to success in any area, and more so in online business.
Changes happen fast on the Internet and that makes the product or service you offer redundant in double-quick time. The success depends on how you innovate. Stay up-to-date with the changes happening on the Internet as well as the market and be ready to embrace those.
Quick response is as important as innovation. Those who don't adjust quickly to changes will soon be out of this brutally competitive market.
Sitting back and relaxing once the revenue starts coming is a common and serious mistake that online entrepreneurs commit. The tap will soon run dry if you do that. A part of the income should be used for business expansion, modernization and to learn and experiment new things.
Remember, there aren't any written guidelines to doing business online. It all depends on your understanding of the trends, the logic behind it and the ability to respond fast.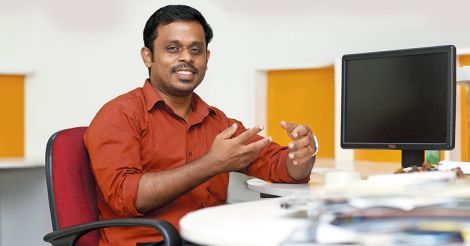 Bipin Mohan
Here are the stories of two young people who struck gold in their online ventures.
Bipin Mohan: No job as an engineer, now earns Rs 1.5 lakh per month
The economic crisis struck at the time when Bipin Mohan was looking for a job after graduating with a bachelors degree in engineering. Opportunities just disappeared.
Some potential employers suggested that he work for six months before getting paid. He was unsure where to go. But, that lack of options was also what made a young Bipin to think of doing something on his own.
Being an Internet and social media buff, he knew the opportunities the online world offered and he decided to experiment.
That decision didn't go wrong. Now he works from home, has no manager to report, and there no need to worry about the office atmosphere and daily commute.
Nowadays, he is specializing in digital marketing — social media promotion and reputation management in particular. The work involves using online tools to market the products or services of a company or an individual.
The packages he offers to clients start from Rs 5,000 a month. If it is a large deal, a detailed agreement with the terms will be signed. There will be discussions with the client to design the campaign, like on what content should go on to the page and the marketing strategy, etc.
There are provisions to post the content when online traffic is the highest.
Bipin's average monthly income is around Rs 1.5 lakh.
"Constant monitoring of the changes and the smartness to implement those are a must. Google, for instance, makes hundreds of changes and updates every year. You must make yourself familiar with those and bring changes to your marketing strategy accordingly," he says.
"Give me a computer with Internet. I will show you how to make money" – declares Bipin on his Facebook page.
Of course, he is walking the talk.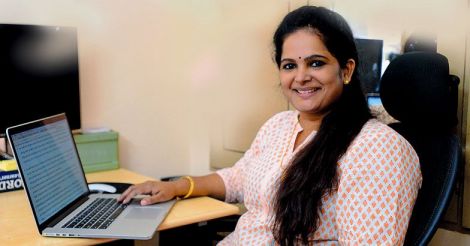 Ranjini Narendranath
Bipin Mohan is the CEO of Quadregal Infotech based out of Alangad, Aluva and can be reached at 94473 06309.
Ranjini Narendranath: No buying or selling, but takes home Rs 40,000 a month
Ranjini Narendranath acts as an intermediary between online buyers and sellers
Ranjini harnesses the power of social media to help the buyer meet the seller. She is into digital marketing, and that involves no buying or selling by her.
Facebook is her primary playground, but she also utilizes WhatsApp, Twitter, LinkedIn, Instagram, Pinterest and her own website to win clients as well as to promote their products and services. Before launching any campaign, she ensures to sign a contract.
Ranjini often prepares the content herself, including the message, descriptions and finds even the pictures to go with it. As many as 20 to 30 posts are posted every month, and she has a calendar to ensure that the timelines are met.
Apparels, mind power training, school and surgical equipment, jewelry and beauty services are among the most common products and services she markets for clients. In clothes, festival and wedding wears usually see the highest demand.
Ranjini was interested in stitching. But competition was tough. The profit margin is small, too, when dress materials are made at home. In fact, she started utilizing the online media to help other women who do stitching work from home.
A client has to pay just Rs 10,000 a month to promote his products or services online. That is her income. Depending on the business she generates, Ranjini also gets small commissions.
She is into this business for just about a year now. On an average, she makes Rs 40,000 per month.
The only investment is in a laptop. The Internet service should be of top quality, says Ranjini. Her monthly expenditure on the Internet is Rs 2,500.
A post graduate in English language and literature, this young entrepreneur says her language skills has given her a big advantage in this business.
Ranjini Narendranath runs Trulyconvertingcontent.com from Pangode, Thiruvananthapuram and can be reached at 82818 88145.
(Read more success stories in part II of the series)