If you have a computer with good internet connectivity and is an enterprising soul, there is no dearth of opportunities.
Forget the routine run to the office or long and inflexible working hours. There are several options for the self-driven to mint gold through online entrepreneurship.
The nerve to observe, adapt and respond quickly to the evolving online trends is all you need. Add a die hard spirit, and you are a winner.
Here are the real life success stories of Asha and Easwar:
Asha Bineesh: Housewife who earns Rs 50,000 a month online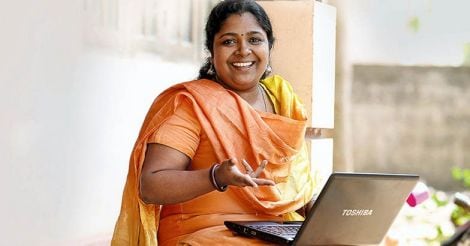 Asha Bineesh
Planning to take the test for a government or bank job? Asha could help make the task easier. She provides tailor-made online classes for those who plan to appear for job tests.
Asha runs her comapany, 'Competitive Cracker' from Kakkanadu in Kochi.
Classes are arranged around the exams, based on the announcement of vacancies. But there are also regular coaching classes for PSC and bank tests, as well as crash courses for those who don't have much time to spend. Asha's aim is to prepare the candidate in every possible way.
A programmer at a software company, Asha found it impossible to carry on with her day job after she became a mother. But she wanted to still do something, ideally from home.
The business of providing online coaching fit the bill perfectly.
She tested the waters by posting a video on YouTube, targeting candidates preparing for PSC tests. That was a hit and gave her the confidence to take the plunge.
Asha has been into the business for two years. Now she also operates a coaching center in Ernakulam. There are half a dozen faculties to help her deliver the courses.
All the faculty members are experts in their respective areas. Asha handles mathematics and general knowledge. When required, she also arranges guest teachers.
Asha provides complete packages for the last-grade and LDC tests. The course costs Rs 3,500 per person and runs from six months to a year. Coaching becomes more intense closer to the tests. In fact, many people take admission around that time and go for the crash tests.
The only investments are in a laptop and website. Faculties are paid based on the classes they offer. Asha puts her monthly income at around Rs 50,000.
She can be reached 85890 83568.
Also read part I of the series: How to make money online? How an engineer and a tailor hit the jackpot
Easwar Vijay: student blogger who takes home Rs 12,000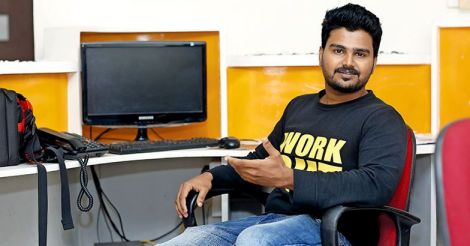 Eawar Vijay
Easwar is an blogger who takes home some good income even as he pursues his post-graduate degree.
Like any other student, Easwar too was fond of dabbling on the Internet, but never thought that it could bring him his pocket money. When he saw a neighbor making money online, he realized that the Internet was not just a place to spend money by buying data but also could be a source of income.
He sought the neighbor's help to learn the nuances of utilizing the Net to make money. And this neighbor was who suggested that blogging could be the area for him to explore.
Easwar took the advice. To start blogging, he chose two areas where he was most interested in and comfortable with: cinema and technology.
It all started in 2014, when he was in second year B.Com. There wasn't any income initially. But as he started learning the ropes, the money started coming, in small amounts first.
Now Easwar makes about Rs 12,000 a month. He used to get as much as $560 (about Rs 36,000 at current exchange rate) when he was using YouTube as well. But some recent restrictions have forced him to stop using the Google video application.
Proceeds depend on how many people see, read and share your blog. But the basic income comes through Adsense, the Google program that automatically displays ads alongside videos and other content.
The blogs should be posted when online traffic is the highest — for instance, when a topic is in news. Also, must utilize tools like pop-ups, 'like' and 'share', he says.
Writing in English is the best way to bring revenue. Language skills are key if you want to be a blogger.
Don't expect to make money from Day 1 if you are a newcomer to the field, says Easwar. It takes at least six months for that to start coming.
More importantly, for blogging, choose subjects in which you have a good understanding and will be able to give a new spin and make meaningful presentations.
The income comes through Google's Adsense. This month's earnings will reach your account by the 21st of next month, for which you have to provide bank details and PAN number.
If you'd like to know more, Eswar can be reached at 85477 44963.
(For more success stories watch out this space for part III of the series tomorrow)
Read more: How to make money online? How an engineer and a tailor hit the jackpot