What is the best thing that accidental techies can make? Well, some great music is the answer this time. If you haven't yet watched the trending techie Onam video, 'Nirapunchiri,' then you are definitely missing a great slice of the suave gen-next Onam, surprisingly soulful and nostalgic.
What started as the team Maveli Express original composition that electrified the Infosys Utsav at Thiruvananthapuram in 2016 has now graduated to a brilliant little piece of art with over 1.5 lakh views.
The Infosys techie buds, current and ex, have worked 'on-site' and off to bring out this labor of love. Enwrapped in the joyful spirit of Onam, the video is a must watch.
The concept and screenplay was done by Srijith Vallathol, the direction by Bipin Gopinath, cinematography by Vineeth Vijayan, production by Sharan Mohan, lyrics by Kiran Raghavan and music is by Anoop Balachandran.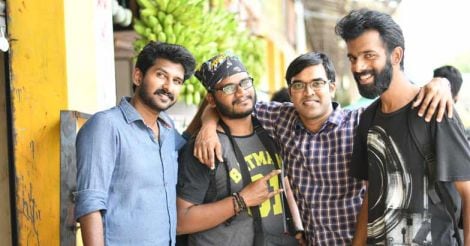 (From left) Sharan Mohan, Vineeth Vijayan, Anoop Balachandra, Deepu Wakefield James
"Be it the music or the lyrics, we have tried to make the song evoke a sense of nostalgia amongst the listeners. With the video complimenting it, the song has turned out to be a celebration not just of the festival of Onam, but of friendship as well," said Anoop.
Saranya Nair, also from Infosys and Sneha Rajaramadas & Sanjay Raj both of whom are ex – Infosys employees, have lent their voices to this song. Raseen Majeed, Mithun Pillai and Srijith served as creative heads on this project – despite being posted abroad on deputation.
To handle the technical aspects, the team has roped in some of the best recognized names in their respective fields such as Sumesh Anand for sound programming, Appu N Bhattathiri for video editing and Vijesh Viswanath for mixing and mastering.