Namitha Pramod used to make her presence felt on the big screen with out much recess between films. But after Adi Kapyare Kootamani she was conspicuous by her absence in recent releases. Where has she gone? Namitha herself files the reply.
Why such a long gap?
I haven't appeared on the silverscreen for quite some time now, but that doesn't mean that I am away from films. So long, I have been busy with shooting schedules. After Adi Kapyare Koottamani, I went straight to a Telugu film. It took more than five months to complete the film. Then, there was 'Role Models,' an entertainer scripted and directed by Rafi. Both the films are due for release later this month.
So, after a brief hiatus, you are coming with two films together
Not just two. Two more in the pipeline. There is a movie titled Kumarasambhavam, in which Ratheesh Ambatt and Murali Gopi come together. It is a period movie. Then, there is Professor Dinkan, the directorial debut of cameraman Ramachandra Babu. Dileep plays the lead role in both the films. Professor Dinkan is a 3D film. Tamil star Sidhhardh dons a prominent role in the film Kumara Sambhavam. The Tamil version of Maheshinte Pratikaram is also in progress. It is being directed by Priyadarshan.
But you are eagerly waiting for Role Models...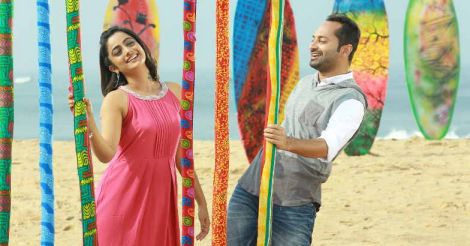 Namitha Pramod and Fahadh Faasil in the upcoming film Role Models
It's a good story - a film that touches upon various phases of a person's life. It was mostly shot in Goa and Aligarh in Uttar Pradesh.
There was a controversy related to a US trip
I came to know about it through social media. The rumor was that I had a fight with Kavya Madhavan during a trip to the US for Dileep Show 2017. I sent Kavya Madhavan a screenshot of the online report and asked if she had heard about the news. 'So we had a fight, right?' she quipped. It was in fact a journey that we enjoyed a lot. So, I felt it right to ignore the propaganda that surfaced not even before the joyous moments of the journey faded from memory. Kavya too advised not to react to such rumors.