All it took Srinda to dive straight into our hearts was a make-up disaster. As Rameshan's bride with Kathakali eye-do, lipstick-stained teeth and heavy-pink blush, Susheela of 1983 endeared herself to Malayali audience with ease: both as a meme and an actor.
Coming from a non-filmy background, Srinda started her career as an assistant to the director-duo Rafi and Mecartin. Later, she turned to acting. And although she had no godfathers in film industry, Srinda found her niche in Mollywood.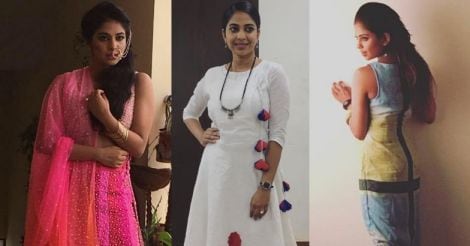 Right from her debut movie Four Friends to the recently released Munthiri Vallikal Thalirkumbol, Srinda made sure that her screen presence don't go unnoticed, and apparently, she put a lot of effort into it.
"Even if it's a small role, I try hard to create a mark of my own. I've never refused a character just because it's a small supporting role," she says. Her efforts have paid off. Today, Srinda is an actor, who's busy hopping from one location to another.
And of course, she's so passionate about acting. "It definitely is a thrilling experience to play different kinds of characters. I don't want to restrict myself to a certain type of roles. I want to do characters that stay in your memory, rather than the ones that flashes on screen and disappear," she says.
But if you thought this talented actor would limit herself to acting, you are wrong. Srinda has had a go at dubbing too. Interestingly, she was the one who dubbed for Shaun Romy's character in the much-acclaimed Rajeev Ravi-movie Kammattipaadam.
In her upcoming movie Role Models, Srinda is doing a tomboy character. But, the actor is a bit skeptic towards being a tomboy. "I'm not quite a fan of such gender stereotypes. But it's good to be a tomboy at certain circumstances, or when you are alone in an unknown place," she says.
Speaking of which, Srinda remembers a recent incident that made her think about women safety. It was already midnight and the actor had just landed at Goa airport to join the crew of Role Models. Without wasting time, she hired a taxi to reach the faraway location. But once she started the journey, she felt a bit apprehensive as the driver was taking her through unfamiliar routes. To make it worse, her phone's battery was almost dead.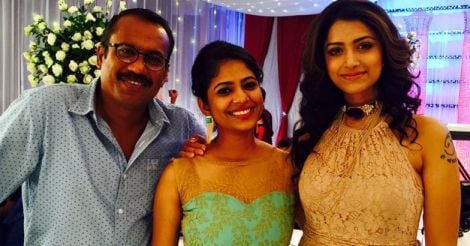 In Role Models, Srinda plays a tomboy
Fortunately, nothing untoward happened and Srinda reached the location safely. But that night, she badly wanted to go around and tell every girl and woman to be bold and learn some self-defence techniques to protect themselves. The actor says that she would never forget that cab ride as it made her realize a lot of things.
Besides Role Models, Srinda has a few more movies in her kitty, viz., Biju Menon-starrer Sherlock Holmes, Njandukalude Naatil Oru Idavela with Nivin Pauly, and Parava, directed by actor Soubin Shahir.