Salim Kumar is no less important than Mohanlal in Velipadinte Pusthakam. The first-time outing of Lal Jose and Mohanlal, the movie has been in the news for quite some time, more so, for the curiosity quotient. In all these years, Mohanlal had not figured even once in a movie by Lal Jose, often called as a hitmaker. Now, with the duo coming together in a movie scripted by Benny P. Nayarambalam, there's a lot to look forward to.
Salim Kumar, who plays a super-duper vice-principal in the movie, is thrilled to bits as he talks about his latest movie to Onmanorama.
At last, I play a vice-principal
"I'm Premraj, an out-of-the-ordinary vice-principal in Velipadinte Pusthakam. Don't get me wrong because of my name. I advocate no premam (love). Nor do I encourage it. No one need come in with such (mistaken) notions either. In fact, I'm no 'prem' Raj. I'm a totally 'anti-love' Raj. It's up to you to watch the movie and decide what or who I am. Am I putting on an act, or is my aversion to the concept of love backed by genuine reasons? I cannot reveal, nut this I can tell you: it's a movie with a difference. And I'm comedy personified. Never before have I played such an out-and-out comedy in a Lal Jose picture.
Mohanlal as Idiculla
I can't tell you why, but I get suspended from the college. But it is because I get booted out that Idiculla, or Mohanlal, gets a chance to be in my shoes. Who cares for suspensions? I've been through all this much, much before all this transpired. Want to know why I was suspended? Go watch the movie.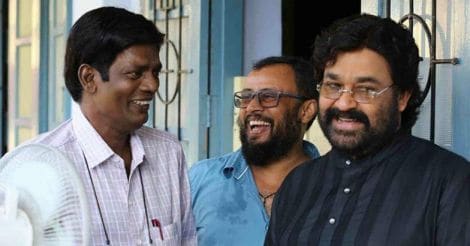 Salim Kumar on the sets of 'Velipadinte Pusthakam'
After a break
This is my outing with Mohanlal after a hiatus. We were last seen together in Christian Brothers. It's the same with Lal Jose too. I'm with him again after a gap. The last time we teamed up was for Ayalum Njaanum Thammil. The break was never deliberate. I kept away for three years as I was wrapped up in my own movie. Now, the wait is over and I'm sure of a very positive response from viewers. You can look forward to a lot of humor, suspense and the final cinematic twist.
Lal Jose is not just a director
It's only in front of the camera that we are a director-actor team. That's the only time our relationship becomes formal. Once out of the sets, we share a deep bond. With Benny too, it's the same friendship. The three of us have been close for a long time. Benny and I have been friends since we were 15 and the bonding with Lal Jose goes beyond 22 years.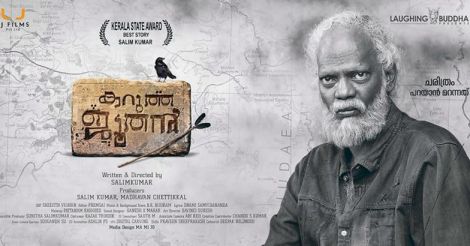 Poster of the movie 'Karutha Joothan'
Lessons learned from Karutha Joothan
My movie Karutha Joothan tanked at the box office. But all who watched had only good things to say and the reviews were very encouraging. But I had to take cinemas on rent to exhibit the movie. Those who watched it, raved over it, urging others to watch it. It's a 'must-see', they said. It ran as a noon-show item and talking of noon shows, they've got to be either art house productions or boring-you-to-death stuff. Hence, hardly anybody turned up to watch it. That taught me a lesson. No more movies low on commercial value!