November 2016. Director Jinu Abraham had already visualized the movie and conceptualized the theme. His ideas were clear. He had already zeroed in on his heroine. He sought out Bhavana not to play an "I was also there" heroine who makes a few fleeting appearances. The Shwetha in Adam Joan called for emoting with substance and Jinu Abraham knew Bhavana would slip into the role with characteristic ease. As the director started unwinding the story, the young actor found herself feeling the thrill of what lay ahead. Was the role negative or tinged with shades of gray? Whatever be the shade, it did not take long for Bhavana to say yes to a movie which has been garnering viewer appreciation this Onam.
Also read: Heroines still play second fiddle to Mollywood actors, says Bhavana

As one of the well-received Onam releases, Adam Joan has fetched for Bhavana, bouquets from all quarters. She springs to life as she unwinds about her experience playing Shwetha in a movie which is far from the run-of-the-mill crowd-puller.
The schedule for Adam Joan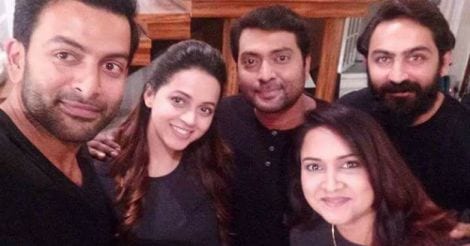 Prithviraj, Bhavana, Narain, Rahul and Lena on the sets of 'Adam Joan'
The filming of Adam Joan started only in February with just two days of shooting schedule in Kerala. The rest was shot completely in Scotland. Bhavana flew out to Scotland in March where the unit was put up for two months.
A Prithviraj movie, but not his heroine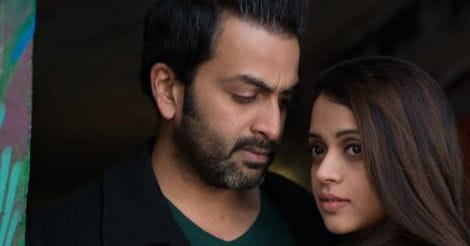 Before Adam Joan, Bhavana had worked with Prithvi in 'Ivide'
Prithviraj is the hero, Bhavana's Shwetha, the heroine. But she's not paired with him. She plays his brother's wife. But it's Shwetha who carries the story forward and plots the twist. Quite a powerful role from start to finish and far different from all the roles she's done so far. Before Adam Joan, she'd just wound up Honey bee 2.
A jubilant Onam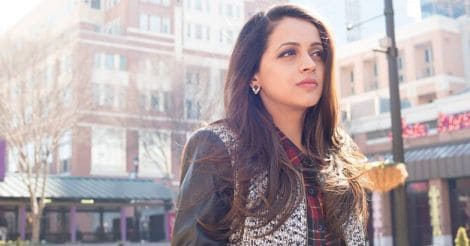 Bhavana's next is a Kannada flick
When one's movie clicks and folks call up to say cheers and well done; when it runs to packed shows and there's the sweet smell of success everywhere, what more can an actor wish for? So in every way, this Onam was truly special for Bhavana.
The entire team was quite apprehensive of the theme. How well would the theme of Devil worship be received? But once the movie hit the cinemas, all their fears got dispelled.
What next?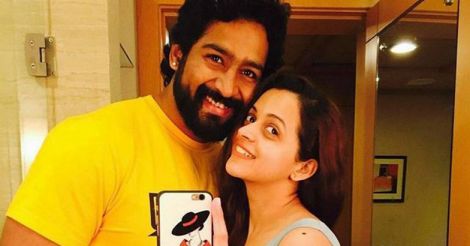 Bhavana with fiance Naveen
The actress' next is a Kannada flick with Shivaraj Kumara. "Its filming is not yet over. So I will be off to Bengaluru soon. As of now, there are no commitments in Malayalam," she says.
Also check: Naveen has been the strength of our family since my father's death: Bhavana

Wedding plans
The pretty actress has a twinkle in her eyes when she talks about her impending wedding. "It's going to be a New Year wedding. But there's still a lot of time," she smiles.