Poet and documentary film-maker Anvar Ali is a prominent and fierce voice among the firebrand modernists of Malayalam verse. His powerful poems were often spoken of in the same breath as that of poet Balachandran Chullikkad. His poetry has widely been translated into various Indian and foreign languages. He has also translated poems from other languages into Malayalam with finesse. The translation of Japanese book Totto-Chan, the Little Girl at the Window, into Malayalam has been widely read. Anvar Ali's documentary on renowned Malayalam poet Attoor Ravi Varma, titled 'Maruvili' (Call from the other shore), is a paradigm resource on the modern poet. A representative of post-modern Indian poetry, Anvar Ali makes his presence felt in Malayalam films occasionally but chooses not to be tagged as a film person. Also, in his poetic journey, Anvar Ali chose to deviate from the traditional pattern and meter in Malayalam and developed a new and style of his own, a 'third form' according to him. The free verse style adopted by him was not the result of a conscious effort but evolved out of experiment. But as a major poetic form, his contemporaries and even the younger generation follow it enthusiastically.
With 'Mazhakkalam' (The rainy season), the first collection of his poems published in 1999, Anvar Ali established himself as a prominent force in contemporary Malayalam poetry. His other major works include, Aatiyaati Alanja Marangale (Ye Trees, Swaying Ramblers), a collection of poetry in English brought out in 2007, and a collection of poems published in 2009, among others.
You have translated literary works from various languages - Kannada, Hindi, Assamese, Tamil and English into Malayalam. How is it possible for you to gain deep knowledge in all these languages? How do you handle the ethno-geographic specialties?
No, it's the other way around. I am not a person who has skills in various languages. In fact, I am not comfortable in any language other than Malayalam. I learned English out of utter need. Similarly, I learned the language of poetry in other dialects out of necessity. I learned them by spending time with the writers in those languages. For example, when I translated poems from Assamese, I learned it from the Assamese poet. He made me understand the poems, in Hindi and English. Poetry itself has a language, which is universal. I translated poems in other languages through this concept and not out of a linguistic scholarship.
Could you explain your experience in translating anglophone African languages. What are the special features of poetry in African languages. It does sound similar to Indian vernacular verse.
I did them as part of my MPhil. Unlike in our part of the globe, colonization had left a deep-rooted impact on the language and culture of African nations. Their own language became the language of imperial nations like Spanish, French, English, among others. This reflected in their literature too. Poets like Leopold Sedar Senghor and Aimé Césaire are prominent among them. Political revolts, social anguish and tragedies mostly became the subject of their poetic expression. Since I was more comfortable with English, I selected African poems written in English. I dealt with the powerful political poetry and identity politics prevalent in 1950s in Nigeria, Uganda, South Africa and so on. It is a pity that even the nativity of those countries was completely lost to the colonial forces even though their own culture or languages were not below par.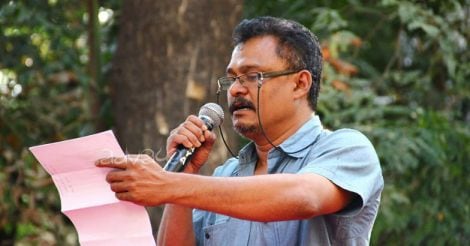 The internet has developed into a medium which seems to question the community of writers who depend on the print media alone, through blogs and social media platforms like Facebook: Anvar Ali
What made you choose Attoor Ravi Varma for your documentary 'Maruvili?' How has Attoor influenced you as a poet?
It is true that there are many good poets in Malayalam. But I started off with with the thought that Attoor is historically a turning point and a milestone poet like Kumaranasan. Many may consider this debatable. But that is my conviction. I had the urge to make a documentary on him when he is still with us. I made use of connections with the film world and held discussions. My interest in poetry and the little bit of experience in cinema made me pursue the project adventurously. It gave good results when it was completed. Many may consider ONV Kurup a great poet. But he is not a milestone poet like Attoor. He has shared several thoughts with modernists younger to him. I felt his poems are of the kind which would open windows to the future in a wonderful manner.
Apart from co-writing the script for the critically acclaimed film Margam and writing lyrics for a couple of films, you have never shown any inclination towards mainstream cinema, why?
I am not a film person. In my younger days I happened to be amid young film enthusiasts who were highly concerned about the aesthetics of cinema. I had also nurtured a culture of viewing films in the intellectually charged ambience during my college and as a member of the film society where I could share my thoughts about films. I used to get engaged in any kind of jobs related to the process of film making. I consider my connection with films only as a continuation of that culture. I believe in the art of film making. I don't think, at present, there is any relation between the so-called film industry and art. But, people like Rajeev Ravi are trying to maneuver the art of film making by being part of the industry. They are showing a rare courage to uphold the art in film, no matter how much money or commercial gambling it involves. I wrote lyrics for his movies inadvertently and not as part of a thought-out plan. My stint as production designer for M.P. Sukumaran Nair films was my early contribution to films in a major way. Even in Rajiv Vijay Raghavan's film Margam I got involved in many areas like scripting and so on and not with a particular designation. You may call it associate director, if you want. I am active in films only in that way.
Do you think literature translation is an area which needs more focus and requires encouragement from the government.
I think the demand for NFDC-funded film production and Sahitya Academy funds for translating world literature have lost relevance now. The world itself has become a market. We should keep revolt for it alive but the reality is that its time is over. We should try to explore a parallel system. I think there is nothing wrong in getting corporate funding for researches if the intentions are clear and good. The Nehruvian concept of supporting art and literature through government funding is damaged now. It's time to go for alternative fund sources, whether it's for translation or for the funding of cinema. Universities can do great deal in this regard. For example, for the research on African literature I obtained many of the resources from the academic journals of African literature in Texas university in the US. The universities should turn into self-driven centers to provide support and funding for studies and research. How it can become, I have no idea.
Your take on current scenario in Malayalam literature, especially poetry?
There is a big difference now. There is new world with a lot of space for literary output with the advent of internet, especially blogs. The blogs have helped in publishing a new kind of writing. It is critical. It has now become imperative that an aesthetic background for it should be ensured. There is a scope for free writing. Since there is a misunderstanding that poetry is short, there is a lot of intervention in poetry. The internet has developed into a medium which seems to question the community of writers who depend on the print media alone, through blogs and social media platforms like Facebook. It's a new kind of free-hand writing - a kind of amateur writing. Anyone can publish their writing from home. Anyhow, talented people are coming up more profusely. Earlier, only few writers were noticed. There is enough hose to drain the whole of literary water. The effort is in distinguishing the cleaner stream. In poetry, there are many youngsters who write powerful verses. In fiction too new writers are coming up. Devadas who is being talked about by virtue of his literary works on the internet represents a new tradition. Internet literature is the manifestation of the change of times.
Some of your experiences working on the documentary series on Malayalam cinema...
There are many. But I will narrate an important incident when I was working with C-Dit. P. Bhaskaran had made a 3-hour film on the history of Malayalam cinema. It was an amateur movie made from cuts of many films. It had so much of material including those of yesteryear hero Prem Nazir and so on. It was produced by KSFDC. To compensate the loss it made, the late K.R. Mohanan decided to transform it into a tele-serial, so that it would get sponsorship. Jose Thomas, a close friend of mine, who is with a prominent TV channel now and I took up the task as co-directors. When we began, it went out of our hand. We shot videos widely and collected thousands of pictures from the office of an old film magazine in Kottayam and other archival sources. We conducted hundreds of interviews as part of the project. Almost 90 percent of the personalities we interviewed are not alive today. After airing 13 episodes, it was stalled following some differences with the KSFDC. But the vast archival resource was not preserved. A prominent channel had bought them and even Chalatchitra academy too created some CD-Roms after an initiative by an 'eternal' researcher named Sasikumar. The vast resource material of cinema history, which was painstakingly created by our team is still in the dark. The work had even influenced my personality. It gave me a great experience in creating long narratives in poetry too. Though the Doordarshan had aired it as a semi-popular programme, its significance is that it's a huge archive. It would be a great thing if we could revive them. There were over 400 tapes. I have no idea where they are now or if all they have been digitized. It also contains good interviews with M.T. Vasudevan Nair, Adoor Gopalakrishnan, K.G. George and so on.
Malayalam films are part of an industry now. What is your prophesy for parallel cinema, which is getting reduced in number and are drowned by the cacophony of so-called thrillers?
It may be true if we consider the linear differentiation between the parallel cinema of the past with the present day commercial flicks. But at present too there is a fight for the art of film-making. Cr No. 68 by director Sudevan is an example. The film has some technical issues but there are interesting artistic element in it. The same can be found partly in Sanal Kumar Sasidharan's films too. So even now the lifeline of art of film making has not been exhausted. It won't exhaust either. The concern for the aesthetic sense of cinema will last forever. The recent flick, Thondimuthalum Driksakshiyum, directed by Dileesh Pothan, is an example. Rajeev Ravi too engages experiments on that line. He does it by incorporating all the elements of the industry. So cinema as an art form has not ebbed. The fight is on and will continue. I believe it is that fight which will be carrying the cinematic medium forward.
'Mehbub Express,' a poem by Anvar Ali, published in a Malayalam magazine recently, has widely been read and appreciated. The poem that adopts a free and lucid pattern portrays the zealous reflection on the youthful days of the writer when the loud rhythmic beats of trains used to amuse him. Beginning with a childlike innocence imitating the beats - 'Kollathe pappadam...' the poet trails the journeys of his 'ikka' (elder brother) Mehbub and takes a meandering trip through a chain of events that had left indelible imprints on the face of the nation. The nostalgic course of imaginary 'Mehabub' chugs past the partition of India and Pakistan, the riots, assassination of former prime minister late Rajiv Gandhi, the Babri Masjid issue, Godhra carnage and so on. The poem also touches upon the changing face of Kochi as well. The verse is considered one of the most revolutionary masterpieces in Malayalam poetry in recent times.