Fifty four years a superstar, the evergreen actor Madhu has hardly lived a life outside cinema. His memories of celebrations, joy and sorrow have one or the other movie to connect with. Rather, he could hardly detail an incident in his life without starting it like, "When I was acting in..." As he takes a glance back on his professional life, the legendary actor says that he has forgot some simple things in his busy life which he regrets now.
When childhood dream came true
When asked what his childhood ambition was, Madhu didn't take a single minute to think. "I always wanted to act. Though I hadn't imagined about the silver-screen as a child, I always admired the theater artists and the many lives they lived on stage," he says. He says he dreamed of no other academic space than Pune film institute as he grew up and that he's happy he landed there. "I never imagined myself as anyone other than an actor," the 84-year-old laughs.
Through the wind of times
For an actor who has been all through the growth and expansion of Malayalam cinema, Madhu opines that technological advancements have brought newer risks to the movie enthusiasts on and off-screen. "It's a very cliched practice to hail olden times and accredit all the achievements of new-gen cinema to the technology. I have lived both the times. I know that whatever innovations happen, the effort in creating a movie is the same. There are newer risks, newer comforts. All what matters is good cinema," he said.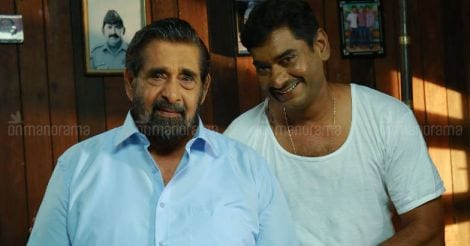 Madhu and Sudheer Karamana in the film 'Dustbin' directed by Madhu Thathampally.
Other hobbies, enjoyment and interests
Now, this question saddens the audience's dear Pareekkutty. "That's one thing I missed to develop - hobbies," the maestro says with a certain dispirit. "In my golden days, I forgot to envisage anything else in my life other than movies. I kept running from one location to another and shed costumes like a snake does so with its skin. I never traveled anywhere for sightseeing, nor did I ever take my family for any. I have never developed any hobby other than acting. All I attempted a little was to read and to write.
"I performed acting both as a profession and a hobby. I switched genres to bring in variety. Now that I am in my old-age, I regret not having maintained a good hobby. I even missed relishing good food from the places I traveled. So when I get bored these days, I accept a role and act in a movie," Madhu says.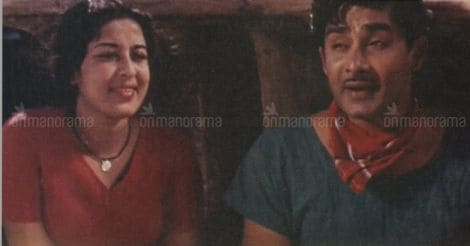 Madhu and Sheela in the film 'Chemmeen' directed by Ramu Kariat
Favorite people: in life and cinema
"Though I can't remember all the faces, which flashed in my life, I can pick some very special names which I keep close to my heart," Madhu says, "Generally speaking, I admit my failure to find a more beautiful soul than my wife Thankom (Jayalakshmi). I have seen a lot of women as a teenager. I have acted and interacted with a lot of people. But I haven't met a person with a better beauty in personality," the evergreen romantic hero quips with a hint of true love in his heart.
Madhu's favorite actress is Kaviyoor Ponnamma, who has acted both as his wife and as his mother. Her natural, affectionate way of acting, says the star, has gifted some endearing characters to Malayalam cinema. Among the new-generation filmmakers, Aneesh Anwar has impressed this all-time legend. "I acted a very short character in his movie Basheerinte Premalekhanam. I was happy that the industry is being gifted with young enthusiasts in the new age also. He seemed crystal-clear in his concepts and requirements," he said.
Madhu says that when he hasn't got any movie-commitments, he spends time watching classic movies in DVD player. "Cinema has been my life – rather, my life itself is a good cinema," Madhu says with a loud and cheerful laugh.