After drama films Compartment and Karutha Joothan, actor – director Salim Kumar is all set to entertain the audience with his upcoming directorial Daivame Kai Thozham K Kumarakanam. The national award winning actor is thrilled at the overwhelming response that the commercial entertainer's trailer has garnered on YouTube. The movie apparently comes with a suspense which would excite not only actor Jayaram's fans but also the countless fans of football genius Lionel Messi across Kerala. Salim Kumar talks about his experiences as a film maker and also about his upcoming release.
The trailer of Daivame Kai Thozham K Kumarakanam is trending on YouTube
Yes, let me thank the audience in the first place for this amazing encouragement. I just hope the movie too gets the same support.
Will the audience get a chance to see actor Jayaram's comeback as a next door hero?
In this movie the audience will definitely see Jayaram in an entirely different and 'new' avatar.
What is the movie about?
Currently, gender inequality is one of most debated issues often escalating into severe war of words. Daivame Kai Thozham K Kumarakanam will hopefully provide clarity to the issue. It is only recently that this 'who is the dominant one' trend began in the society. Until then men and women were just seen and respected as father, mother, brother or sister. I think our society awaits severe catastrophe as a result of this male – female divide. Many bitter truths hide beneath this disproportionate division of power based on gender. This movie, which is a family entertainer with a dose of genuine humor, is about a pledge taken in the name of God.
It is said that the online trollers who 'disliked' the song from My Story have offered their wholehearted support for your film. What do you think about it?
I am against all these because I stand for gender equality. A woman has given birth to me. I am never against any woman. Everybody has a right to voice their opinions. All I have to say is to avoid the 'dislikes' and refrain from violating other people's individual freedom.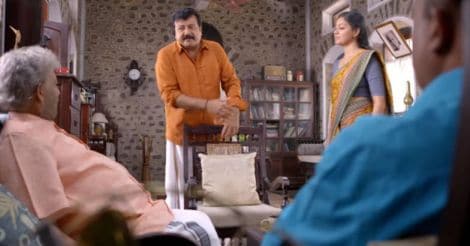 Another Bobby Chemmannur could be seen in the trailer?
I will not disclose now whether I am an admirer of Bobby Chemmannur or not. There is no Bobby Chemmannur in the film, only Gopy Karimannur.
How do feel as you are coming up with a commercial entertainer?
I did not make Compartment and Karutha Joothan to set the cash registers ring at the box office. I have certain aims, and Compartment and Karutha Joothan were part of that ambition. I have a clear idea about cinema and have some films too on my mind. Compartment and Karutha Joothan were two of those films. I made those movies clearly knowing that it wouldn't be a success in theaters. The marketing of those films have to take place at a different level. At the International Film Festival of Kerala (IFFK) my films were shown to packed theaters.
Daivame Kai Thozham K Kumarakanam is a movie intended for a family audience. It is an absolutely commercial entertainer. I insist myself that when I do a commercial movie it should be of above par. I have done many humor scenes which are substandard. But I assure you that the audience can enjoy this movie along with family and have a good laugh in the theaters. I know the value of a hundred rupee note. So those who purchase tickets by spending almost hundred rupees shouldn't curse its makers. I have done this movie with the intention to make it worth for the money that has been spent on tickets.
Did you imagine Jayaram in the lead role when you wrote the movie?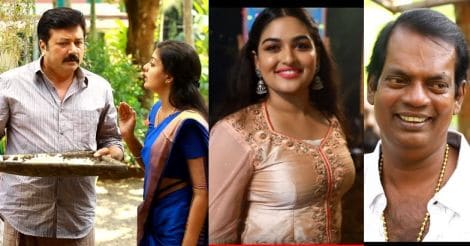 Jayaram was not on my mind when I wrote the screenplay of this movie. I wrote it imagining myself in the lead role. I bought the rights to the base story of this movie from Pradeep Kavunthara a few years ago, for me to act as the hero. Later, when I completed writing the script I got the National award. As time went by, necessary changes had to be made in the script as well. When I looked at it again, I though the character would suit Jayaram very well. As soon as he heard just the first fifteen scenes or so, he readily agreed to do it and told that we should soon begin filming. But I was already committed to do some other projects at that time. So we began shooting only after completing those movies. It was my biggest wish to see this project getting done as a feature film.
How did you cast Anusree?
I was a bit confused about the female lead to play the character called Nirmala. Though I had Alina Padikkal on my mind and had even spoken to her about this movie, I was skeptical whether the audience would feel that Alina was a bit younger for the role. That is how we came to Anusree. To be honest I hadn't watched any of Anusree's movies until then. It was in fact my son Chandu who said that Anusree would be the perfect choice to play the role of Nirmala.
Does this movie have any connection with football?
Yes, the most amazing thing is that football genius Lionel Messi will be seen acting in this movie. So the Ronaldo fans shouldn't be disappointed. If you spot him somewhere in the movie, I am not to be blamed. I repeat. Ronaldo fans shouldn't feel dejected. Let that be the suspense.