V P Sathyan's life was larger than a game. The inspiring yet disturbing tale of the former Indian football captain was not easy to portray. Just like he held the banner of Kerala high on football fields, Sathyan has inspired the first sports biopic in Malayalam. Actor Jayasurya talks about his tryst with the Captain.
On sports biopics
This is the first sports biopic in Malayalam. But I would say this is my second sports biopic. Shaji Pappan's tug of war (Aadu) is a sports too. Of course, I am kidding!
I did two movies last year - Punyalan Private Limited and Aadu 2. I was not sure how those movies were going to be received. It was the same feeling with Captain. I did not bother about the movie's potential to be a success. This was a movie close to my heart. It turned out to be a favorite of the audience too.
Captain was the most challenging role in my career. This movie swayed me both mentally and physically. I never knew Sathyan. I did not know about him until (director) Prajesh Sen told me about the project. I came to know about Sathyan from his friends, fellow travelers, his wife and then Prajesh Sen.
Sathyan was a talented footballer who loved the game unconditionally and earned the Santosh Trophy for Kerala. That was his persona on the ground. We had to present him as an individual too. I knew neither of those Sathyans. Yet, I felt his presence during my preparations to essay the role. This might sound incredulous to you.
On the unlikely choice
Prajesh Sen was an assistant director who described the scenes on the sets of Fukri. I did not know him before that. How could I commit to a project with an untested director on a person I knew little about? Many people have asked me this. When Prajesh Sen described the scenes to me as an assistant director, I encouraged him by saying I sensed a potential director in him. One day, the cameraman told me that Prajesh Sen had a story to tell. I told him to go ahead. That is when he told me about the Sathyan biopic. I told him about my ignorance of football and Sathyan. But when he told me about some scenes, I committed instantly to the project.
If someone wants me to act in his movie and he is able to get me hooked to the story, that means he has cinema inside him. That is how I felt like when Prajesh Sen talked to me. He did not sound like a debutante director. He told me the story like a seasoned filmmaker amid the shots on the sets of 'Fukri'.
I have asked Prajesh Sen and Anita (Sathyan's wife) why they chose me to play the role. They told me I resembled him. They also told me that they were sure that I would take an effort to play the role.
On challenges
Imagine a painter who learns that he can no longer paint, or a singer who cannot sing anymore. How will they feel like? Sathyan had played football with ice packs on his legs against the advice of his doctor. The more you know him, the more you got into him. I never had such an experience before that. I cannot tell you what I went through.
A majority of people knew Sathyan the footballer. He had gone through a lot of miseries. I had to convey that side too. I had neither played football nor known Sathyan. He was still living in the hearts of his fans. If we goofed up on the movie, that would hurt the people who loved him. I had to do a lot of preparations, mentally and physically. It was a difficult mood. I had to act the part of a man who once walked this earth.
All my previous roles were the creations of script writers and directors. They would tell me about the role and leave me to explore the characters. But Captain was history. A lot many people knew Sathyan. They knew about his mannerisms. I did not know any of those. There is nothing of him on YouTube, not even a fragment of his game or an interview. That is why I was in a lot of stress. But I tried my best to portray him from the accounts of the people who were close to him.
I gave five months to the movie, including three months of preparation. I had just completed 'Fukri'. I had to undergo strict physical training to look the part of a sportsman. That was easier. The most important part was the mental preparation, for any project for that matter.
If we shot the scene of Sathyan's wedding in the morning, we may have to work on a totally different state of mind in the afternoon. The evening shot may be from an entirely different period.
You can change the look the way you change costumes. There are people to help you with that. But you were on your own when it comes to mental preparations. You have to change your expressions and body language in short intervals. It was especially tough with a character such as Sathyan.
I was excited about the physical preparation to get into the shoes of Sathyan. Football training for one and a half hours, an hour at the gym. You need to have tremendous stamina to play football. After three days of practice, I was taken ill for a week. Then I had to start from scratch. I had to forego everything fun during the training. But I never regretted it.
On an intense co-actor
I told you I was going through a lot of emotion. The acting was so intense that I actually slapped co-actor Anu Sithara during the shoot. That was an unrehearsed shot. I had warned the cameraman that I was not sure of what I was going to do. Just shoot whatever I do. I realized that I hit Anu Sithara only after the shoot was finished. I was worried about facing her after the incident, but she was sporty.
She told me I did the right thing. That was the only way to make the scene genuine. Actors like her is my greatest strength. I was amazed at Anu Sithara's attitude towards work. She is a newcomer and she was so serious about cinema. She assumed a character effortlessly. She would learn any dialogue and deliver it at a short notice. She played Aliya in Fukri and Anita Sathyan in Captain. If you looked into her eyes during a shoot, you could only see the character, not herself. That is the success of an actor.
On Sathyan's belongings
I learned about Sathyan through his friends. My chats with them were unforgettable, especially the conversations with his wife Anitha. I can never forget those moments. She told me that I resembled Sathyan. That was my fortune.
She was speaking from her memories. Though Sathyan was from Kannur he did not speak the dialect. He had to travel a lot to play. He was a serious person. He loved jalebis. Of course, the movie does not have all these details. But I had to know about all these to get to him. There was something else that got me convinced that this role was meant for me.
When I went to Anitha's house, she gave me the jacket Sathyan wore at the SAF Games. It suited me perfectly. That was marvelous. His belt was also a correct fit for me. I had them on in the movie.
I had also talked to someone who had given a live commentary of Sathyan's games. He has a small role in the movie. Even he told me I looked like Sathyan. As an actor, I was lucky that I got to play a man who I had never met but who lived in countless hearts and minds. Interactions with such people energize my life.
I could speak to many of his close friends including Sharaf Ali and Kurikesh Mathew. As an actor, I do see many eyes that convey different expressions. I could read from their eyes the love they had for Sathyan. They were not in awe of seeing their friend's life in cinema, they just loved him.
I felt like I had known them for many years. I felt like someone from inside me was speaking to them intimately. If I told them this, they would think I have gone crazy. Some characters from a book or a movie get into your head and stay there for some time. This character was something like that to me.
On stardom
Why would I want to be a superstar. I have never tried to be a superstar. If I did a good movie, people would watch it. I would be in business. That's all.
I am happy to get the national award. I feel happy when people say that I did a good job in a movie. Good movies earn you so many monikers but I sincerely wish to be unaffected by them. Captain is a movie with a lot of unforgettable moments.
On other movies
Each movie would be received differently. Some people would love it, others would be okay with it and some others would despise it. They are at liberty to feel so. I can't comment on personal tastes. Nobody is perfect. Movies are made by people with their own limitations. So you cannot expect a movie that satisfied everyone. Even the audience would have their own limitations.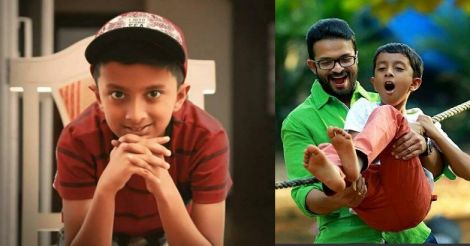 If about 80 per cent of the audience dislike a movie, that has to be a bad movie. You cannot do anything about it. If they like a movie, it means the movie is for the 80 percent.
People have chided me on some of my choices. The same people patted me on the back when I did movies of their liking.
On new trends in Malayalam
Malayalam is blessed with an audience with brilliance. You have to know them before you made a movie. You goof up when you dare to decide what they want. The Kerala audience are more exposed to international movies than many of our directors. When you make a movie for them, it has to have fine moments in it, no matter what the subject is. You need scenes that lingered. You do not have to make a movie that received Rs 100 crore in the box office. Just a movie that the people are going to remember.
I think that I have talked a lot about Sathyan and Captain. This movie had stretched me personally. This character was the most challenging in my career. If you ask me to choose my five best choices, Sathyan is definitely among them.