One of Malayalam's favourite star kids - the bubbly, timid, super-cute Kalidas Jayaram - is indeed a boy next-doorfor all of us. As his very first, much-awaited Malayalam movie Poomaram just landed in the theatres on Thursday, Kalidas, on cloud nine, speaks of the location experiences of Mollywood's latest Kalolsavam movie directed by Abrid Shine. Kalidas shares with Onmanorama, his joy and memories over Poomaram.
About your journey with Poomaram...
It's been a great journey. Poomaram is the result of a team's hard work and perseverance of over a year. Poomaram is the heart and soul of us all. It is receiving a great response from Kerala audience. The movie released all over the nation on Friday. I'm looking forward to hearing all responses.
About your youth festival memories...
Unfortunately, I never had a youth festival memory in real life. I studied in Chennai and the education system there is totally different. We don't have inter-collegiate competitions or cultural fests. I am good in mimicry and I have taken part in the cultural programmes conducted in my college. It is actually through Poomaram I got to live a real Keralite campus life and some very fascinating Kalolsavam days.
How did you prepare yourself to do the character in Poomaram?
We had a camp before Poomaram's production schedules started. Director Abrid Shine described to us every aspect of campus life in Kerala, Kalolsavam, its importance, preparations and my character. That's when I got a clear picture of the movie and the character I'm supposed to play.
About your location experiences...
None of us felt like we were acting in a movie. Abrid Shine created an ambience such that every artist or technician felt they were really getting ready for a Kalolsavam. Once the schedules were completed, it seemed to me that I just completed a wonderful Kerala college life and that I'm going to miss all my 'classmates.' Director gave all of us an idea about the script and we were let free to behave as we would do in our college.
What was your feeling when the movie's release date was delayed too much and it started getting trolled on social media?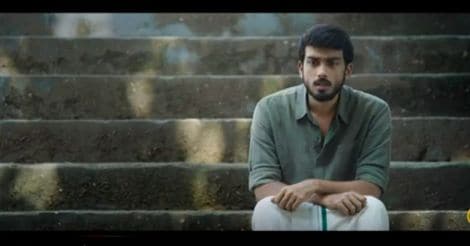 Trolls never hurt me. I actually enjoyed really funny trolls that came up then. I shared most of the Poomaram trolls on my Facebook timeline. I think we should never take trolls seriously. They are just funny.
Your major concerns while stepping into mainstream movies after appearing in an ad film after a long time
I wasn't concerned over anything but I wanted to be a part of a good Malayalam movie, which fortunately happened through Poomaram.
How did your family respond after watching the movie?
My parents weren't sure whether I'd gel into the character because they know that I'm alien to Kalolsavams. Interestingly, both of them have got a lot of Kalolsavam memories. They have been parts of Kalolsavam during their college days. They tried to explain the aspects of Kalolsavam. But after watching the movie, both of them got lost in the memories of their own college lives. My sister couldn't watch the movie yet as she's pursuing her higher studies abroad.
About your upcoming projects...
I have signed up for Alphonse Puthren's first Tamil movie, which is a project I'm very much excited about. He is donning the director's cap for the first time after Premam.