It was disbelief for Nikhil S Praveen as the 65th National Film Awards Jury read out his name as the best cinematographer.
When Onmanorama caught up with the budding artist, Nikhil was with his family in Kottayam celebrating his biggest achievement in life so far. After graduating from the Cochin Media School, Nikhil began his career in cinematography with movies and later he shifted as a photographer of an event planner group, Pheonix weddings.
Excerpts from the interview: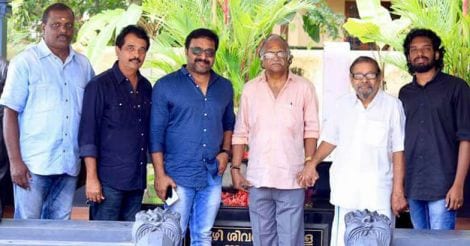 Nikhil S Praveen (far right) with director Jayaraj (2L) actor Renji Panicker (3L) lyricist Sreekumaran Thampi (3R) music director MK Arjunan (2R).
Bagging a National award is not an easy job. What do you feel now?
Honestly, I don't know what to say. Everyone has a time for everything and I can just say that this is something unbelievable for me. I am so happy that I have made my family proud. Even when I was watching news, for a moment, I was stunned and could not digest the fact that my name was being announced. I am glad that I could be one among the few names from Malayalam film industry.
Jayaraj won two awards for the same film as well...
Yes, that makes our happiness all the more sweeter. After the awards were declared, he was the first one with whom I talked. It was indeed a wonderful experience working along with such a veteran director and his team.
Tell us something about the film Bhayanakam and your working experience...
The film throws light on an incident which happened years ago and the story is narrated through a postman in a village. For that, it was necessary to show the scenic beauty of the village with shots including sunset and paddy fields. To get the shoot done, we had to get up early morning wait for the right moment and capture the beauty in the best possible manner. The entire crew was so cooperative that I managed to get some remarkable shots.
What next?
Well, can't answer that now. I need to wait and see and give my best to whatever I am doing.