Some cine artists rise to fame fast. Some take decades to achieve the heights they deserve. Then there are others like 'Vettukili' Prakash who shine for a while and then fade away only to re-emerge later.

Right from when he entered silver-screen in 1987 as 'Kunjan Nampoothiri' in the movie Theertham, Prakash VG, popularly known after his character Vettukili in the Mukesh starrer 'Ennod Ishtam Koodamo,' has appeared in more than 80 Malayalam films. He started his film career in an art movie. He had been typecast in humorous roles for his slender built, vibrant smile, and distinct accent. After handling a range of characters from a college student to the heroine's middle-aged father, irregardless of his actual age, Prakash is now spreading his wings over the realism wave in Malayalam cinema with his sublime talent to enliven intense character roles.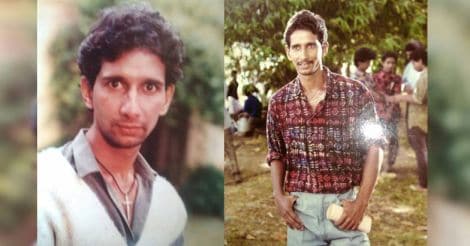 Visuals of Prakash from his old movies.
Prakash opens up to Onmanorama about his life with Malayalam cinema, his achievements, setbacks, memories and hopes.
The drama school alumni who romanced cinema...
Prakash VG, hailing from Thrissur's Ayyanthole, was a passionate theatre activist, actor and director right from his teenage. After completing his graduation in stage acting from the School of Drama, Thrissur, Prakash entered the world of cinema. "It was in 1984 that a group of students who ran a drama troupe conducted a theatre fest at Calicut university as part of a function to award D. Litt to Malayalam writer Vaikom Muhammed Basheer. I played major roles in two to three 'absurd plays' which invited media attention. Director Mohan noticed a photograph of mine which appeared in some magazines and contacted me offering a character in his ongoing project," Prakash remembers.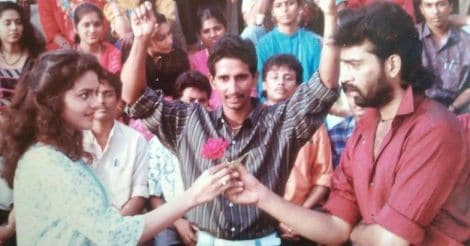 Prakash, as his most popular character 'Vettukili' in the movie 'Ennod Ishtam Koodamo.'
After being noticed for his first character, Prakash became a busy actor in the industry with one or two releases every year. Tony in Isabella, Hari in Piravi, Velayudhan in Ottayal Pattalam and Vettukili in Ennod Ishtam Koodamo are some of the memorable characters Prakash did in his initial years. But soon, 'Vettukili' Prakash, a nickname the industry gave him, became a name associated with comedy alone. "Acting is my search of eternity. I am not answerable to anybody with regard to my profession and my deeds. That is the reason why I quit my favorite profession and started a small business in my home town," Prakash says.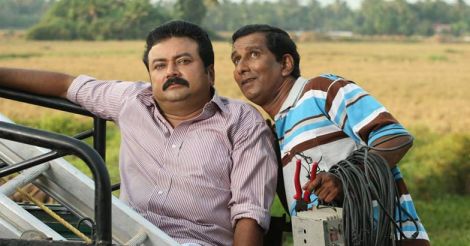 Prakash with actor Jayaram in the movie 'Verutheyoru Bharya' (2008.)
But cinema had other plans for Prakash. It never allowed the passionate actor to quit and kept offering him small yet remarkable roles.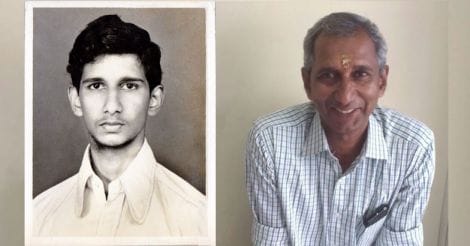 Prakash had been typecast in humor roles for his slender built, vibrant smile, and accent.
From the vintage, through the commercial, to the real...
Prakash's character Sreekandan in Dileesh Pothan's Thondimuthalum Driksakshiyum was indeed a path-breaker, as his furious performance surprised the audience acquainted only with his comedy characters. Prakash says Malayalam cinema has finally out of a dreadful commercial phase where artistic values were compromised for commercial.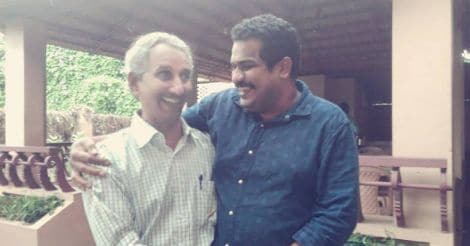 Prakash with director Dileesh Pothan.
"I rejoiced when I listened to the script of Thondimuthalum Driksakshiyum. I belong to a vintage-era of Malayalam cinema. The very first film-maker who deconstructed the commercial aspect of Malayalam cinema was John Abraham. I see passionate youngsters like Dileesh Pothan as his successors. Malayalam cinema is back in its golden age. What else could I wish for rather than holding the industry tight through all the turbulence it has seen," a contented Prakash says.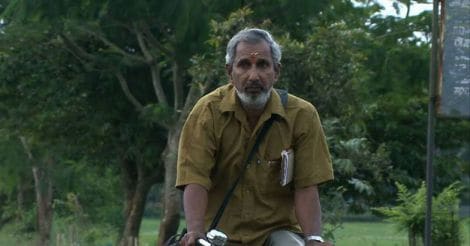 Prakash is now spreading his wings over the realism wave in Malayalam cinema with his sublime talent to enliven intense character roles.
Prakash plays Subrahmaniya Pappan in the upcoming Jiju Asokan movie Premasoothram. He plays the role of a loner who makes and sells Papad for a living. "A concept becomes a character when he interacts with other characters in a plot. Subrahmaniya Pappan is, in that sense, an intense character. He has much to offer beyond peripheral perceptions and humour," he says.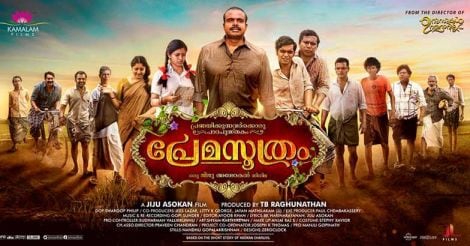 Prakash plays Subrahmaniya Pappan in the upcoming Jiju Asokan's movie Premasoothram.
For Prakash, an artist shines with his art alone. When art diminishes in glory, the artist becomes a puppet, mechanically playing whatever is being offered to him. The artist's perseverance to stick to his art even in the worst of times, makes him a genuine soul. He says that he has proudly been one.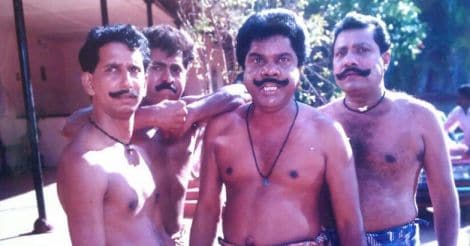 Prakash with actors Prem Kumar, Mala Aravindan and Rajan P Dev in the movie 'Sathyabhamakkoru Premalekhanam.'
Hopes and dreams...
'Vettukili' Prakash is a loner in his real life too. Unmarried, he works as an LIC agent at Thrissur's Ayyanthole. Having got his four siblings married and settled, Prakash, 52, is leading his retirement life all alone, romancing cinema. Asked about his hopes in life, Prakash says he wants this age of realism and experiments to persist in Malayalam cinema. "I felt proud when the national film awards jury lauded Malayalam cinema, saying that it competes with world cinema in concepts and techniques. I just want to watch Malayalam cinema rising to more heights," he says.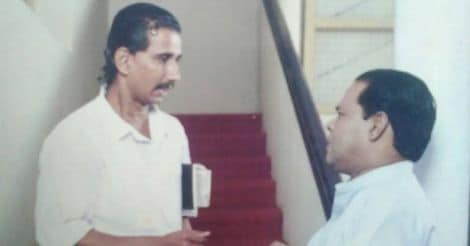 Prakash with Innocent in one of his old movies.
He opined that there is no better happiness for an artist than watching his art rising to glory. "Being able to watch it now, what else shall I wish for in this short life?" he asks, smiling.