Known for her unique singing style, Sayanora Philip has been a name to reckon with in music industry for over a decade. The Mozart of Madras, AR Rahman, had recognised her talent quite early and there has been no looking back for her ever since. But the queen of husky melody didn't wait to limit her interest in singing alone and made incursions into more realms of music. She joined the league of rare woman composers in India by giving tunes for the songs in the film 'Kuttanpillayude Sivarathri' directed by Jean Markose, and went a step further by seizing the title of the first woman to score the background score though the same same film. The modest artist, who wants to explore the creative realms of music, shares her views and experience of her musical journey with Onmanorama.
What inspires you the most in music?
It is the soul and the feel of music that attract me the most. Be it of any genre, I enjoy the emotion a piece of music conveys. Language is no barrier. What I look for is whether it wholly imparts the feel that the music director intended to convey. Lyrics and other aspects of the composition come later.
How did you turn to music composition?
From my childhood, whenever I get emotional, I either write down something or compose music. The first time I tuned a song, along with my brother, was when I was in college. My first composition was out of a heart-break in my teens. I kept composing songs since then, like short jingles and so on. I have composed so many songs but I never tried to bring them out. The first song that I released was a video song 'Uyire' posted on YouTube two years ago. I had also composed a Christian devotional song when my friend's brother died of brain tumour and then posted it on YouTube. So, I compose mostly when I am moved emotionally.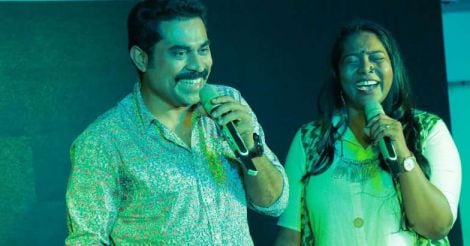 Composing music for films
I had never thought of composing music for films. It was director-script writer Jean Markose who asked me first if I could compose music. I was not confident then. Though I had been doing singles, which were created for emotional satisfaction I didn't know if I were able to compose songs by deciphering the emotions in an already written script. So I first refused but later thought it was a good opportunity and went for it.
The music composer, who inspired you the most
It's hard to single out a name. I like music by Salil Choudhary, Johnson Master and Rahman Sir, of course. I follow these composers mostly for the core of music and orchestration. The songs in 'Chemmeen' is rich with so much of arrangements. Such music, I think, would be impossible in this digital-era. I don't think there was another sophisticated music (like that of 'Chemmeen') in Malayalam in those times.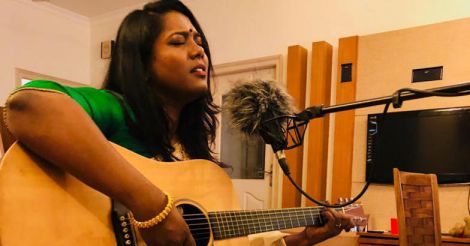 Why there are not many women music directors in cinema?
We become something by inspiration. Though Usha Khanna had composed some songs in Malayalam we don't have another model for women composer in Malayalam to fall upon. Even though I am a singer, I have never thought of composing because we don't have such icons. Another reason, I think, is that it is not a job that can be accomplished working within a time frame. It's a work that has to be pursued day in and day out. It takes one to stay at place over a long period. It requires immense family support, especially a person like me who is married and has a kid. Provided we have such a support structure, we can leap into this kind of endeavours.
How does your family support your career?
I have a strong musical background. My dad is a music composer himself and runs a music institute at Kannur. He own a musical shop too. So from my childhood, music was of prime importance in our family. When I ventured into music my dad encouraged me to and pursue my dream. Apart from the emotional support, they give me immense freedom too. Not once did my husband Ashley question me about my work or my whereabouts. Freedom is the ultimate factor that is needed in music composition. When my daughter took ill and was taken to the hospital, I was not informed, lest I would be disturbed. So, if a woman has to become a composer there has to be so many sacrifices that has to go behind it.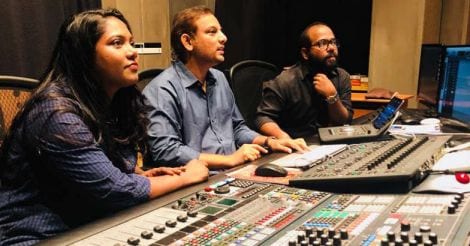 How challenging was composing music for 'Kuttanpillayude Sivarathri'?
The toughest challenge was how we churn out the musical thoughts by watching a reel. The film's director may have something else in mind. So we sit down and think of how to better it every time there is a conflict. It was really strenuous for me to do the background score because when there are edits of a particular reel, we need to rework on the whole portion. It was hectic when edits of reels kept coming frequently. Since this was my first work I had put my maximum potential. I was not actually willing to take up background score. But I was there with the team from the beginning stage, during discussions and so on. So Jean too enticed me to do the BGM (background music) to avoid any mismatch in musical ambiance.
Your memories of stint with AR Rahman
It was actually after my song in 'Shivaji' that I came to be recognised here, though I had recorded a song for the film 'Manju Poloru Penkutty' a year earlier. It was after that I sang for 'Shivaji', 'Jaane tu ya jaane na' and so on. Actually, I had joined Rahman Sir's concert as a chorus singer. It was a different experience altogether. Then I had to do a lot of home work and imbibe a lot of musical techniques. I could meet a number of great musicians too. Now, the final mixing of 'Kuttanpillyude Sivarathri' was done at Rahman Sir's studio.
Next project?
I am doing two songs for Soumya Sadanandan directorial 'Mangalyam Tanthunanena,' starring Kunchacko Boban and Nimisha Sajayan in the lead.