Sreejith Edavana may not be a celebrated name, but his compositions speak volumes about his talent. As a musician who leaves a stamp of his artistry on all his works, Sreejith believes in finding a soul in his music. The young artist, who titillated music lovers through his very first album song, 'Nenjodu Cherthu', directed by Alphose Puthren, continues to dole out enthralling musical ensembles through films and albums. Basking in the glory of songs in the movie 'Shikari Shambhu', the unassuming singer-composer talks to Onmanorama about his musical journey, vision, opinions among other things.
You were in the industry for a decade with several hit tracks under your belt. Were you noticed enough?
I have never thought on those lines. I am just focusing on my work trying out various new things. I only believe in karma. Though I present myself at places where I am comfortable for promotion and so on, I never go for a show off. I draw inspiration from news that people are listening to my music, that's all.
How did music direction happen to you?
Hindi songs were my favourite at a young age. Then I was awed by the music composition of AR Rahman, who revolutionised sounding in music and I developed an interest in music composition. When I was doing my degree I started a band, but it didn't do well. But I had a friend named Anil who had some connections in the film industry and mini screen. Through him I started doing jingles and did some titles songs for TV channels in Kerala. That was the beginning. After that I went to Chennai to do an audio-engineering course to learn more about the technical aspects of music composition.
The first work 'Nechodu Cherthu' was a hit, but you were the lesser known part of it
After completing my course I kept visiting studios to get a job to put into practise what I learned. Finally, I got into a newly set up studio in Chennai. There, I had the opportunity to get a hands-on experience in almost all the modern equipment in music recording. The tunes and basic orchestration were done there in 2008 as part of that practice. Though the studio was shut down later, I preserved the track. Eventually, I bought a studio in Kodambakkam. In the meantime, I got chances to work with veterans like Ouseppachan, M Jayachandran and Raghu Dixit. It was the time I thought to bring out those songs. Saachin and Solar Music came forward for production. Alphonse Puthren was my friend and batch-mate in the college where I studied the sound engineering. He was pursuing a course related to videography. I told him about the concept of the songs and suggested him if he could make a video. He liked the song 'Nenchodu Cherthu.' Nazriya and Nivin Pauly were just stepping into film industry then. They were roped in too and 'Yuvvh' happend in 2012.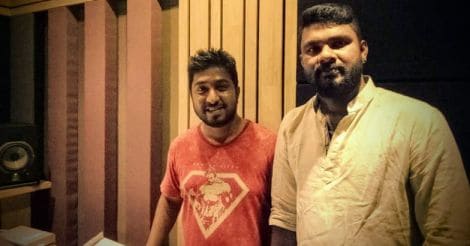 Sreejith Edavana with director-actor-singer Vineeth Sreenivasan
The journey so far as a music director
My first movie was a Tamil-Telugu bi-lingual film 'Shivani'. It was followed by an album titled 'Love Policy', directed by Rajith Menon. Aju Varghese and Shridha Shivadas were cast in the video. Then I composed for the film 'Kamasutra 3D' directed by Rupesh Paul. The five songs composed for the film and the backgoround music had entered the Oscar contention and reached level 10 in 2013. The film that came next was 'Madhura Naranga' released in 2015. It was followed by an independent Hindi album 'Dhuun' for Times Music. Another musical video titled 'Kannoonjal' was brought out after that. Then came a video song 'Onnanam Kunnil' written and directed by Maneesh Kurup. The short video song will now be extended to a full-length feature film, 'Vellarikka Pattanam'. This song was followed by a Tamil film titled 'Meow.' Sugeeth's 'Shikari Shambu' came after that. Presently, I am working for a film titled 'Anunnaki', which is a Hollywood film, directed by Anil, who I had mentioned to have studied with me in the college. There is one more Tamil movie in the making, starring Anushka Shetty and Sharwanand in the lead. In Malayalam, I am composing for a Mammootty-starrer.
Things that explain your style of composition
I always compose with a dummy lyrics which vaguely matches with the situation and then get the lines penned by a lyricists. I prefer composing tunes in the conventional pattern where film director, lyricist and the musician sit together and create a song. I never send a tune set on a humming to a writer to assemble words on it. I believe in finding a soul in the music, which I compose. For orchestration I try to use instruments played live as much as possible rather than depending on digital pieces. I think, only then, my songs will have life.
Singers who excite you most
I am most excited about one singer named Sooraj Santhosh. He is the lead singer of the band called Masala Cafe. A state award-winner, who has sung several songs in Malayalam, Sooraj's biggest strength is his knowledge in music and his vocal flexibility. He has sung in many movies. Similarly, there are singers who I was excited about but proved completely wrong when worked with them. One glaring name is that of a young high-profile singer. His dismissive attitude – checking WhatsApp, etc - while a song is being conveyed to him by a composer is a worry for many in film industry. His utter disdain for music directors and ever film directors is in fact a talk inside the film circles but no one wants to say anything publicly out of fear.
Do you believe social media provides enough platform to budding talents?
Yes, our first album 'Yuvvh' itself is an example. It was released on YouTube before being featured on TV channels. It is a medium for an artist to share his or her talent with the world. However, the patterns are changing now. There are certain norms in getting financial returns from social media as sometimes artists are injudiciously exploited for promotions and monetary gains.