Parava, in a nutshell, is a movie with a heavy dose of realism. The alley that director Soubin Shahir takes to explore is different and myriad. Set in the quaint trading town of Mattancherry, the tale is told as seen through the eyes of a zealous schoolboy and his bosom pal.
The sporting activity prevalent in the area is hitherto unexplored in Malayalam cinema and that itself renders a fresh whiff of life to the narrative. Events and emotions, tender, as well as poignant, keep the life buoyant throughout the course.
Irshad or Ichappi, as he is fondly called in his close circles, is a schoolgoing kid and is a pigeon fancier who breeds the birds for pigeon racing. Together with his partner Haseeb, the buddies are busy with their own exploits with the winged beings.
But they are all too often haunted by an intense tale about the preceding generation of pigeon-racing hobbyists from the town. It is this multi-layered narrative that weaves the two segments, which make for the plot of the film.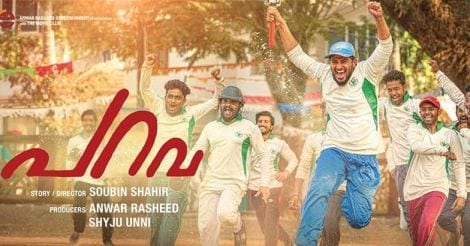 It's an elaborate course, which flaunts an array of characters who beautifully fill the wide onscreen spectrum. And, each of those characters is well-rounded and believable. It is this realistically crafted detailing, which generates radiance to the whole narrative.
A majority of the first half is consumed by the pranks and 'funventures' of Ichappi and his friend, so much so that the narrative introduces us to the older generation only in the later part of the movie.
Although a bit late, the characters of Shane (Shane Nigam), Hakeem (Arjun Ashokan), Mujeeb (Gregory), Imran (Dulquer Salman) and Zinil Sainuddin easily make up for that. How their lives go berserk after a certain incident with Imran playing a pivotal role is crucial. Shahir has deftly divided the events in a relatively equal proportion and wraps it up decently well. It's a celebration of friendship and relations.
No one disappoints in the acting department. In fact, Amal Shah who dons the role of Irshad in the film and Govind who plays Haseeb make Parava a memorable fare. Among the two, Govind edges past the other a bit. Shane Nigam, Arjun Ashokan, Jacob Gregory, Dulquer Salman, Zinil Sainuddin, Siddique, Indrans, Harishree Ashokan, Jaffer Idukki, Ashiq Abu and Srinda Ashab, among others, showcase meticulous performances and the life in the old town of Mattancherry is subtly depicted.
However, the realistic tone could not be brought about in the action sequences. They are quite cinematic and elaborate. The outstanding camera work by Littil Swayamp and the breezy background score and songs by Rex Vijayan put the movie on a pedestal. Though a disjointed course of events and slightly over-stretched and void saga, the film stands out for its originality and aesthetic appeal. As a debutant director, it's a marvelous outing for Soubin Shahir.
Rating: 3/5

Read more: Entertainment | Movie review | 'Simran' movie review: Kangana Ranaut is the Queen